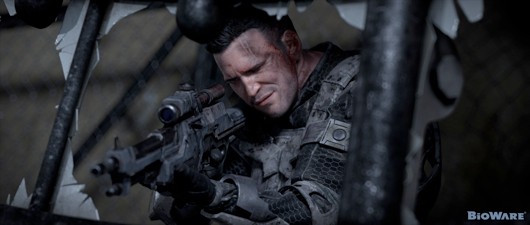 In a trailer released today promoting this year's Spike Video Game Awards, BioWare revealed that they will be announcing their next game at the December 11 show. They also teased the upcoming reveal with the above screen.
Anyone who looks closely can make the conclusion that this will be a Mass Effect reveal of some kind. The black weave and plate armor is very similar to the armor style used in the Mass Effect series. Also, the weapon this unknown man is holding bears a striking resemblance to Mass Effect sniper rifles. The M-29 Incisor Rifle from Mass Effect 2's Aegis Pack to be exact.
Way back in February, EA stated that something "far-reaching" was coming to Mass Effect in the publisher's fourth 2010 fiscal quarter. That translates out to anywhere between January 1, 2011 to March 31, 2011. This could mean that the reveal may not even be of a game at all, but more Mass Effect 2 DLC.
BioWare has also posted two QR codes via Twitter. Joystiq has since gone super nerd and done their best to translate and figure out their meanings.
According to the site, the first QR code, when decoded and translated out of binary, reads 55.845. This is the atomic mass of iron.
The second code translates into 125.8°F. Converted into Celsius and flipped from positive to negative that equivocates to -89.2°C, the coldest temperature ever recorded on Earth. It was recorded in Vostok, Antarctica in 1983.
This all comes together in the Mass Effect universe because Vostok is a star system in the game that features four planets and an asteroid belt. The asteroid belt, according to the Mass Effect Wiki, is "metal-rich". Though it may be a stretch, iron is a metal and the number translated from the first BioWare code is of the metal's mass.
Speculation aside, the VGAs will also feature a new trailer for Batman: Arkham City and the reveal for Guillermo del Torro's THQ project.
Check out the trailer for BioWare's upcoming reveal below.
[flash width="540" height="337"]http:/media.mtvnservices.com/mgid:ifilm:video:spike.com:3497987[/flash]