Back in April, PAX East offered me an introductory course to the basic improvements, enhancements, and general feel of Borderlands 2. Through it I got a taste for the new guns, wildlife, and expanded leveling system that are being offered in this similar, yet slightly different, sequel. Going into E3 with this knowledge and having already tried out the game's Siren, I put more focus into testing the inner workings of another of the title's four new classes: the Assassin known as Zer0. Paired with Senior Editor Jason Fanelli as Gunzerker Salvador, the two of us took on the Hyperion headquarters to do a little remodeling.
Our task was simple: let Handsome Jack know we don't appreciate his rule over Pandora by tearing down four sculptures of the villain right on his doorstep. It wasn't something we could do by ourselves, so we fought our way to a large, sluggish robot capable of using lasers to cut down the multiple likenesses. This triggered an escort mission, tasking Jason and I with fighting off waves of Hyperion soldiers and mechs intent on destroying our new pal.
Before embarking on this adventure, I got a chance to customize a few of Zer0's skills. I wanted to make stealthy melee kills my sword-wielding assassin's specialty. This lead to the maxing out of Zer0's Deception and Backstab abilities, allowing me to become invisible via a stealth cloak and deal extra melee damage while Deception was active. Making sure I got the full benefits of this strategy, I also boosted a passive ability that granted me health whenever I successfully killed someone with a melee attack. Set to wreak some sword-slicing havoc, I caught up with Jason and our gun-toting duo charged into combat.
It didn't take long to realize that despite his blade, Zer0 was a not a slice-and-dice melee machine who could chop up multiple targets at a time — at least not this early on. The Assassin will deal extra damage with his melee attacks, but they are executed just the same as any other characters' and have just as much a delay between strikes. To make things worse, Deception wore off the second a shot was fired or melee attack struck. Trying to jump in and cut apart groups of enemies left me far too vulnerable.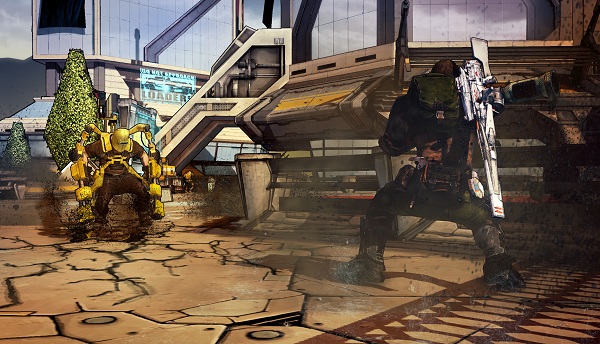 It wasn't until after getting downed a few times by biting off more than I could chew that I realized the true nature of Zer0: sneak attacks and long-ranged gunplay. Any player looking to slay in style as this masked man will need to use their stealth to get behind an enemy, take him out or deal a hefty amount of damage with a melee attack, and then quickly retreat to deliver potshots – preferably with a sniper rifle – until Deception recharges. Once I employed this technique, I became much more effective, and we put down all who attempted to stop our new artistic vision for Handsome Jack's statues… at least until the boss showed up.
These powerful baddies and gaming hallmarks do indeed make a return in Borderlands 2, and the one Jason and I stared down was quite a big fella: a towering mech a couple of stories tall that packed a real wallop. My stealth attacks seeming more like mosquito bites than the touch of death, I resorted to using Deception as a means to find safe cover to fire from, and to flee when necessary. Other mechs joined the fight to assist our massive assailant, making for one challenging and taxing encounter. With patience, persistence, and a respawn or two, however, the mammoth machine eventually exploded into bits, but not before Jason and I discovered that like the game's predecessor, Borderlands 2 won't be a simple walk in the park.
When we stepped away from our stations and back onto the show floor, I knew that I couldn't wait to see what other difficult and fun tasks myself and several other gamers will endure as all four of Borderlands 2's characters when the game is released on September 18 for Xbox 360, PlayStation 3, and PC.