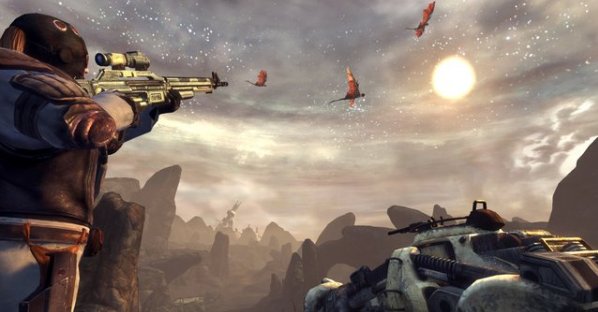 Gearbox Software has announced that their upcoming sci-fi FPS/RPG hybrid Borderlands has gone gold, with a targeted late October release.
Set on the far-off planet of Pandora, Borderlands employs a unique mix of RPG elements — quests, items, and PvP — with traditional FPS fare like we've seen in games such as Fallout 3 (namely, a crapton of guns). A nifty four-player co-op mode sweetens the deal, allowing for some fun adventures with friends.
PS3 and Xbox 360 owners will be able to pick up Borderlands when it releases on October 20. PC gamers will have a bit of an extra wait with the the game arriving on October 26. Those gamers who reside across the pond will be able to nab the game on October 23 for consoles and on October 30 for the PC.