I was introduced to BUZZ!, Sony's quiz show franchise, through their first PS3 offering, BUZZ! Quiz TV. It instantly became a party favorite, topping even the quintessential party game Wii Sports. When I saw that Sony was a making a new BUZZ! game for the PSP, I was excited for it. I hoped that the fun I was having with a group could be translated into a solid single-player experience on Sony's portable.
Unfortunately, I was a bit disappointed.
That's not to say BUZZ! Quiz World is a bad game. It's enjoyable, at best. The problem rests in its monotony. It doesn't offer the option for players to pick categories as its PS3 counterpart does. It doesn't have any of the aesthetics of being on a game show that makes the console version so enticing. It's missing a lot of what makes the PS3 version so much fun, and that's a damn shame.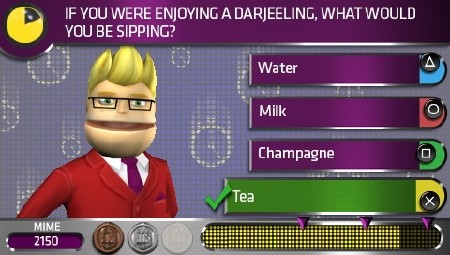 The gameplay is simply this: pick the type of game, answer questions, earn a medal, move on. That's the gameplay in a nutshell. Types of quizzes include Point Builder (just answer questions), High Stakes (bet points based on the type of question), Time Challenge (answer as many as you can within a time limit), and QuickFire (score more for faster questions), among others. The higher you score in each game, the better medal you'll get — Gold, Silver, or Bronze. As you get more medals, you'll unlock other characters for use in the multiplayer mode. That's the entire span of the single-player. The multiplayer, while fun, is much easier and more accessible on the PS3 versions. What would you prefer, four PSPs and four copies of one game, or one PS3 and one copy of the game with four buzzer controllers?
From an aesthetic point of view, the game offers up some laughs. Buzz himself is a great character; a loud, sarcastic host with a sharp line for just about everything. Even if you skip his dialogue and go straight to the question, he'll make noises like "Nah…" or "Excuse me!" I got a sadistic kick out of skipping his speeches so I could hear what he would say to me. When that's the most fun you're having with a game, you know there's an issue.
The questions are spread over a wide array of topics, from sports to entertainment to science to food. The variety of questions is one of the best things about the game, I just wish I had more control over what category of questions to expect in any given round. Unfortunately, the difficulty level of these questions is just as varied, ranging from ridiculously easy to too freakin' hard. I felt like I did when I was playing Mortal Kombat II in the arcades, walking all over Baraka in the first match, then getting my ass handed to me by Jax in the second. Just once I would have liked to have a string of tough, but answerable questions. I did like how the game mixed up how it asked the questions, throwing in some where you had to listen to a song or watch a video before answering. While the categories and presentations of the questions were varied, which is good, the diffculty was as well, which is nothing but frustrating.
BUZZ! Quiz World has some things going for it, but it falls short of its console predecessor in so many ways, it can't be described as anything other than a disappointment. It's cool having trivia at your fingertips, but if you're looking for the real BUZZ! experience, check out the PS3 versions, you'll be glad you did.