Whether slaying dragons, traveling through time, conjuring spells, diffusing plots of world domination, or saving the princess (whatever castle she may be in), through the magic of video games, players can go places and do things that they might otherwise never have the opportunity to do in real life, all from the comfort of the living room sofa. One might even surmise that this is one of the most compelling reasons to play video games at all. And while most gaming adventures exist in the realm of fantasy, some virtual expeditions closely mirror things gamers might do outside the bounds of the screen, but afford a greater degree of participation and enjoyment.
Cabela's Hunting Expeditions attempts to expand the mere weeks in each calendar year that individuals can hunt big game, providing greater accessibility than the outdoor pursuit allows, giving enthusiasts something to tide them over between seasons, and letting non-hunters have a taste of what the hunting experience might actually be like. While the in-game motions may not be pitch-perfect, the game succeeds conceptually, capturing both the highs and lows that come with actually getting out in the field.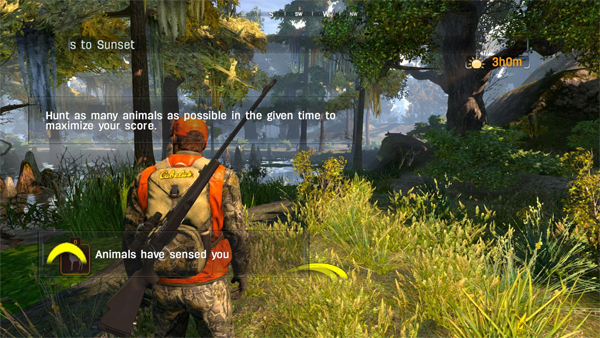 The concept is simple: successfully completing hunts earns experience points that unlock new types of game and new parts of the world in which to hunt them. Each claimed animal also nets cash with which to buy new, larger caliber guns and gun upgrades. Unlike what most hunters would encounter over a lifetime of hunting, Expeditions includes over 30 North American and African species to stalk, from the ubiquitous white-tailed deer all the way up to the lions and elephants of the savanna.
Being more concerned with the "toys" of the trade than actually killing animals – a perspective I suspect many hunters and gamers share – the level of customization with the rifles and the functional differences between available guns feels slightly deficient. The game covers rifle calibers ranging from .223 all the way up to .450, but it would have been interesting to weigh the pros and cons of a wider variety of cartridges, including old standbys like the .30-30 Winchester and .30-06 Springfield, and modern classics like the .308 and the 7mms, with differing ballistic properties that are ideal for particular types of shooting at specific ranges. In Expeditions, it seems that any caliber round is sufficient for any shot made possible over the course of the game, with the exception that smaller calibers won't take larger game.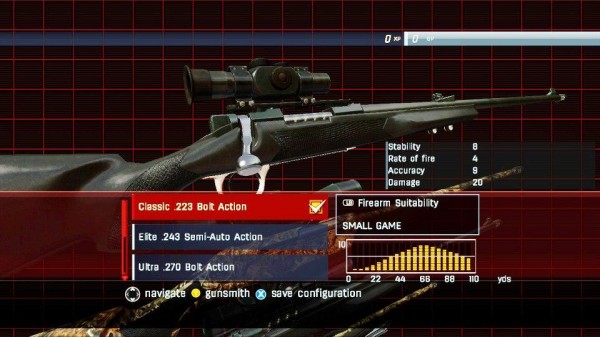 This becomes a matter of terrain as well as just the tools. To maximize the perceived advantages of various cartridges, it would be necessary to extend the range at which players take shots out beyond the roughly 100-to-150-yard threshold Expeditions seems to put in place. And to take shots at great distances, the ability to create rests, lie prone, and account for environmental factors before shooting would be necessary, with the appropriate scopes and bipods at the ready. Instead players are limited to predetermined rests that dot the landscape and each face only one direction for obviously planned animal spawn points, and while stealth is presented as an important part of the hunt, very few animals are perceptive enough to challenge a careless, straightforward approach. The lack of these dynamic considerations can make the whole thing feel more like a video game than than a simulation, despite the clear focus on more realistic hunting.
That gaminess only settles in after extended play sessions, however, and also manifests in the old one-more-round mentality that is often indicative of an inherently enjoyable experience, regardless of the play patterns that become transparent over time. Expeditions is analogous to the original Assassin's Creed in this way – find high point, spot target, gain information, plan route of attack, execute – only less intriguing and less exciting. The first vital shots are thrilling, but after much of the same process, the feeling dulls.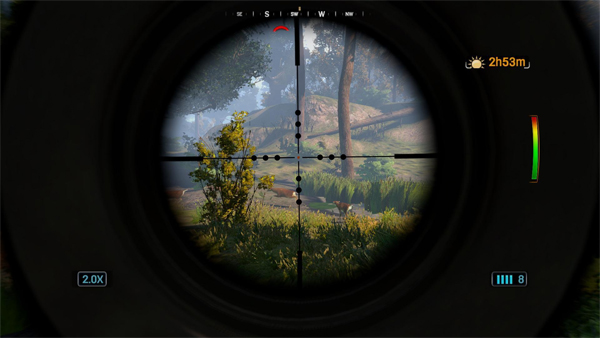 None of this is to say that hunting is, in fact, the most exciting pastime. It can actually be pretty boring. Cabela's Hunting Expeditions offers WAY more hunting action and diversity than any hunter will likely ever see while toting a real rifle, and for that, developer Fun Labs has achieved an important goal. But gamers and gun nuts alike are creatures of obsession, tinkerers, and customizers, and Expeditions could have gone the extra mile for that mindset, with which players will undoubtedly step into the game. Expeditions clearly serves its purpose, though: it scratches an itch for the members of its audience, and lets them jump in at absolutely any time their hearts desire.