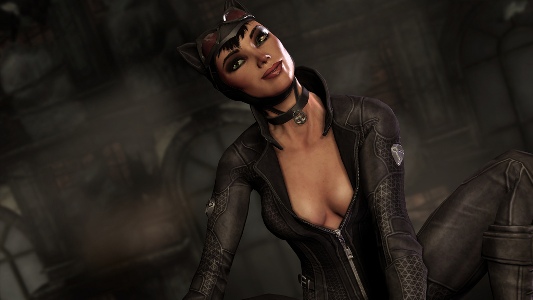 Rocksteady Games has been keeping a massive secret about their highly-anticipated upcoming title Batman: Arkham City. The developer had already revealed months ago that Selina Kyle a.k.a. Catwoman would be in the game, but today it literally let the cat out of the bag and announced that the feline-fashioned thief will be a playable character.
Catwoman won't be playable in the way that the Joker was in Arkham Asylum, which was via a special side mode, but instead be under the direct control of the player in the actual narrative of Arkham City itself. While her overarching role will only take up 10 percent of the game's story, playing as the agile femme fatale will see players taking advantage of the chaos within the villain-controlled city by doing what Selina does best: steal.
Catwoman will control much differently than the Caped Crusader. She won't be getting around by cape or grapple hook, instead relying upon her whip, parkour-like athleticism, and claws to navigate the world of Arkham City. When it comes time to throw down with some goons, Selina's action in combat will reflect that of a quick, agile, and flexible fighter as opposed to the brutal brawling style of Batman.
Batman: Arkham City is set to release on October 18 for the PlayStation 3, Xbox 360, and PC.
To see Ms. Kyle in action, just check out the game's latest trailer below courtesy of GameSpot.