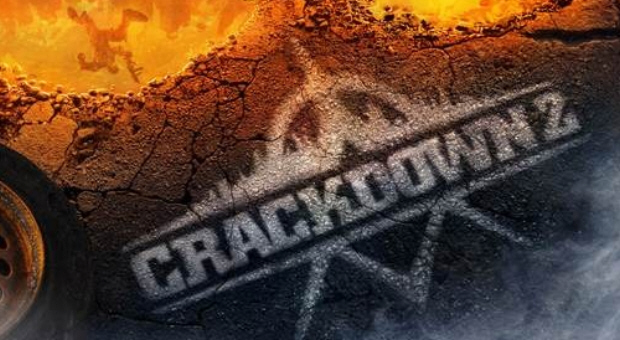 Crackdown, developed by Realtime Worlds, was seen by many as nothing but an means to enter into the highly anticipated Halo 3 beta. A quality open-world game with tight shooting mechanics and a good story involving giant organized crime syndicates (an 83.26% average rating on GameRankings is solid, after all) was overshadowed by the appeal of seeing Bungie's next big thing in action.
Well, with a new developer named Ruffian at the helm, Crackdown 2 is coming this summer, and it's coming all by itself.
I was able to experience Crackdown 2's online multiplayer at PAX East, and let me tell you, if the single-player has the same quality as the multiplayer had, we will have one complete package come July.
I was placed into a 4-on-4 Team Deathmatch, my Team Red taking on Team Blue, and we were thrust into battle in a shipyard complete with giant stacked crates. The first thing I noticed was that the moon jumping from the original Crackdown is back, and it is just as effective for moving around as ever. I was able to climb to the top of a giant stack of metal containers in no time at all. The controls are the standard for shooters: left trigger aims, right trigger shoots, left stick moves the character, right stick moves his view, etc. What did catch my eye was that if you press the left bumper with an enemy in your tracks, the camera will shift, and that person will be placed directly in your line of sight, allowing you to shoot him and only him. Anyone who checks my accuracy rating on Modern Warfare 2 knows how helpful this can be for me.
Graphically, the game moved very well. There was no evidence of frame-rate slowdown, no choppines, and no lag. The actions were at a smooth 60 frames per second during my entire match. The only time there'd be a graphical issue was when someone would fire a rocket, which would cause a fire. The fire graphics are a bit dull, but that is a minor gripe compared to the rest of the game.
Most importantly, it was damn fun. Jumping around like we were fighting on the moon, rockets firing everywhere, I found myself really intrigued the entire match. You never can tell when someone's just going to swoop from above with the ground pound move (hold B while falling), stunning you for long enough that they can shoot your face in. The level we were playing on also had little pods that would shoot a player up to the top of the level, allowing them to see over the entire battlefield. This was a great way to map out some strategy, as the glide feature (hold Y while falling) allowed me to hover to where I wanted to be and ground-pound those Blues all day.
For the type of game Crackdown 2 is, relying on fast and constant movement as opposed to slow, meticulous strategy, the 4-on-4 Team Deathmatch style fit the engine quite well. So long as the single-player is as enthralling, Crackdown 2 could be the total package come July, Halo 3 beta be damned.