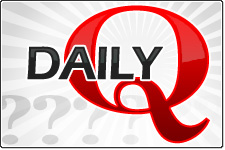 Everyone has different tastes. From cars to clothes to food and drink to members of the opposite sex, we all have our likes and dislikes.
When it comes to videogames, we have a wide variety of genres to choose from. Some of them tickle our fancies more than others, and some do absolutely nothing to excite us, but which are the types of games that we absolutely despise? That's today's Q.

What type of game do you avoid at all costs?
I thought about this for a while, and I'm going to have to go with anything that comes to the mobile phone platform. Yeah, I avoid those, even with their phenomenal gameplay and audio/visual presentation.
Yuck. (Can that be my One Word Review?)
[Eddie Inzauto]