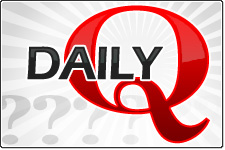 Today's Daily Q is brought to you by the file extension .mp3.
I've been listening to a lot of music lately, thanks in part to finally reloading my laptop with my entire mp3 collection (I had a minor setback about a month ago), and also to the discovery of the excellent websites last.fm and pandora.com (thanks Kyle). Now, music is once again flowing constantly through the airwaves of my everyday life.
The recent information regarding the upcoming PlayStation 3 firmware 2.4, in which players can operate the system BGM and mess around with custom tunes via the in-game XMB, was the final inspiration for today's Q:
Do you make use of custom tracks and background music during your gaming sessions? How often? Are there any games in particular that you always aurally customize?
I don't often make use of my own music in my games, for whatever reason. Maybe it's because I like to keep the overall flavor of the game authentic, or maybe it's because I'm too lazy to set things up and take advantage of those options. I have done it in the past, though, mostly in games that feature licensed playlists that don't tickle my fancy.
How about you guys?
[Eddie Inzauto]