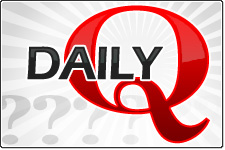 Getting stuck in a videogame can be a horrible experience. Aside from the frustration and occasional broken controller, it can also lead you to do things that make you feel dirty like using cheat codes, or walkthroughs.
In this multi-part, multi-day Q we will talk about getting/being stuck and the results that follow. We'll start at the start.
What is your worst stuck point in a game? Were you able to overcome? How?
So its three Q's but the heart of it is one topic. I've heard tales of people playing the same part of Ninja Gaiden for months at a time, and the water temple in any Zelda game from Ocarina and beyond is enough to make people stop playing all together.
Autosaves have also been cause for stuck moments in recent memory. Why the hell would I want to save with me almost dead, with only two bullets and one grenade? It takes some serious trial and error to get out of that situation.
For me, I'm stuck in Call of Duty 4. The sniper mission. It's not actual sniping that is the problem, that stuff I can handle. It's the aftermath. I've tried more times than I wish to count and I cannot fight a platoon of men with the tools I have at my disposal. I quietly put the game back in its box where it will remain for a thousand years. No amount of walkthrough can help me when I am the problem. Just thinking about it I'm ready to throw my Xbox out the window.
Tomorrow we continue, with the aptly named part two.