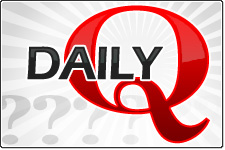 I was editing my forum signature today, putting that good old "now playing" list back in there, when I got to thinking that I'm in the middle of a TON of games right now. There are so many, in fact, that it's hard for me to determine which of them even deserve to carry the title of "now playing".
Which brings me to the day's question:
How many games do you play at a time?
By this, I don't mean acting as a one-man circus of virtual reality and playing multiple games on multiple screens simulatneously. What I mean is how many games, on average, do you find yourself in the middle of, making active progress? For me it's usually no more than three, but lately it's been closer to twice that number. Honestly, though, I prefer to focus on a single game, finish it to my satisfaction, and then move on to the next. How about you?
[Eddie Inzauto]