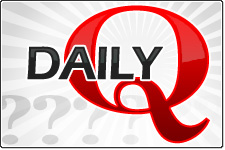 Hot on the heels of yesterday's Daily Q, where I asked about games that exceeded expectations, I'm now here to find out about the other end of the gaming spectrum — games that were utter disappointments. I know there have been a great many of them over the years, so let's hear your picks.
Which games have completely disappointed you?
These are a little bit more difficult for me to come up with off the top of my head because I usually do my best to forget such gaming experiences, but I'll give it a shot. Recently, Grand Theft Auto IV was a bit of a disappointment, because it promised so much, yet delivered what I felt was but an incremental update to the existing formula. Mass Effect, too, was hyped to the sky, but presented something far less than revolutionary. These are both decent games, but they simply failed to match the red carpet rolled out in front of them.
Probably the biggest disappointment I can remember is No More Heroes. After playing Killer7, I expected nothing short of pure brilliance from developer SUDA 51 and Grasshopper Manufacture. The only thing that managed to amaze me about No More Heroes was how completely cumbersome, poorly designed, and unenjoyable it was. I tried to like it, but it just wouldn't let me.
[No More Heroes]