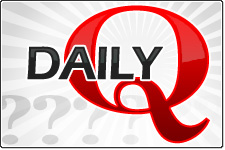 Today's Daily Q is something I ask anyone who claims to be a Nintendo fan, because I find the answer varies quite a bit from person to person. Recently, Creighton and I actually got into a no-holds-barred cage match over this very topic (secretly, I want to see all of the GN faithful tear each other limb from limb inside of a chainlink DOME), so I pose the question to you:
"Which game is the best in the Mario Kart series…and why? Which is the worst?"
Yeah, I mixed it up there with the bonus question, but I know you guys can rock two at once. For me, Mario Kart DS is the best, and Double Dash is the worst.
Admittedly, I have had very little time with Mario Kart Wii, so my assessment may be unfair, but Mario Kart DS has tons of characters and karts to choose from, with a great range of attributes for each, as well as plenty of tracks, great sense of speed, and the first online play in the series. Double Dash feels like a slug race, and took the concept of weapon pick-ups to the realm of ridiculous imbalance. Handicapping was taken way too far, and in many cases, the game is simply obnoxious.
There's my take. How about you?
[Eddie Inzauto]