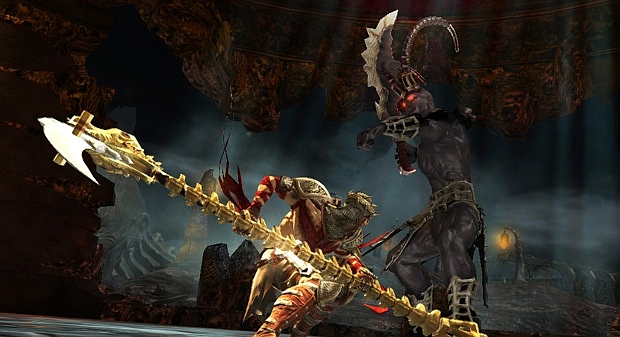 EA and Visceral Games have made quite a splash with Dante's Inferno, with both the game itself and the outlandish marketing campaign. During my time at GameX 2009 in Oaks, PA (just outside Philadelphia), I had the opportunity to get my hands on the demo for the Xbox 360 version of the game, as well as getting to speak with Dennis Yu of Electronic Arts about the ideas behind the title. You will find the video interview here.
WARNING: The following preview is about a mature game. As such, it will talk about many of the elements that make the game mature. Anyone that isn't usually privy to mature content should not continue. You have been warned…
Dante's Inferno is a new game, but it should feel very familiar to fans of God of War, Devil May Cry, and Onimusha. You will be surrounded by enemies, and you will mash buttons to create combos and eliminate these enemies. What sets Dante's Inferno apart from the others lies in the presentation. This game will creep you out, more so than possibly any other game before it.
The demo I played was the Lust level from this year's Tokyo Game Show. The stage obviously bears imagery referring to its name, but it does so in such a way that it makes you sick to your stomach. The very first thing I saw in this demo was a sultry demoness who rose from flames in the ground, moaning and groaning as if she were "in the act," then revealed her "private area," which happened to be a giant spiked tentacle. I then took control and started battling. There is a lot of button-mashing, the X button for normal swipes with my giant bone scythe and the B button for projectile attacks with my crucifix. It's almost mindless to a fault, as I was just hoping that my attacks would clear the path and I could continue on.
What disturbs me the most about this world is that everything is sexual in nature. The posts around the elevator leading to the boss battle are all phallic. I had to break a snake's fangs in order to raise its head and reveal a platform, but once the platform was exposed, the area behind it looked exactly like the female genitalia. This attention to visual detail set the mood perfectly, as this was a world where I was surrounded by sexual imagery… and was not even remotely enjoying it. It was creepy, it was gross, and in regards to what they were trying to achieve, it was perfect.
The grossness factor only got worse. The boss fight of the demo was against a giant, demonic portrayal of a topless Cleopatra. Her main attack was summoning little demon babies with sickles for hands to attack you. Fighting them was one thing, witnessing their summoning was another thing entirely. They emerged from Cleopatra's breasts through the nipple and crawled to her shoulder, where she scooped them up and placed them against me. I was caught so off-guard by this that I lost half my health before I realized the fight was still on. It was one of the most disturbing things I've ever seen, gaming or otherwise, and it's not something I'm likely to forget about by the time the game releases.
Though it was nightmarish in presentation, the game ran like a dream. As I played, the game never hiccuped or stuttered, easily maintaining 60 frames per second no matter how crazy the on-screen action. The controls were comfortbale, though monotonous, with a button layout that felt natural to me.
Dante's Inferno will be a unique game when it hits the Xbox 360 and PS3 on February 9th, maybe not for its gameplay, but for creating an environment of pure discomfort and disgust that will keep the player engaged, no matter how uncomfortable they are.