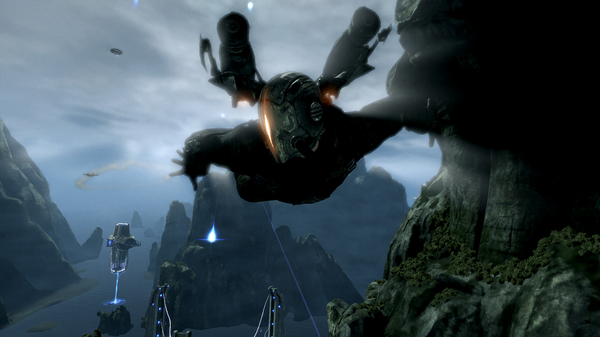 The first batch of DLC for Capcom's high flying shooter, Dark Void, is set to drop next week and brings a new Survivor Mode to the game. Players will fight through 10 rounds of increasingly difficult waves of enemies. Combat will be a combination of ground and air combat, in what Capcom describes as, "an arcade-esque experience where the player battles through hoards of enemies on the ground and in the air while collecting points and upgrading weaponry." The maps will take place in key events in Dark Void's campaign.
The DLC will release on February 10 on Xbox Live for 400 Microsoft Points ($5.00) and February 11 on Playstation Network for $4.99.
The game's soundtrack will also debut next week, featuring 80 minutes of hand picked scores from composer Bear McCreary, who you may know as the composer for Battlestar Galactica and Caprica. A bonus track will also be available, titled "Theme from Dark Void (Mega Version)", which is an 8-bit version of the main theme that was featured in the DSiWare title, Dark Void Zero. Sumthing Else Music Works will release the soundtrack for Dark Void (digitally and CD version) and Dark Void Zero (digitally) on Februrary 9.
The game's music was one of the high points in the game for me, and McCreary's hard pumping drums and epic tone shine through throughout the game's action set pieces. I'm curious to check out the game's full soundtrack and hear all of McCreary's score.