As a self-proclaimed Disney aficionado, being asked to review Disney Universe seemed inevitable. I've been around Mickey and company my entire life, from seeing the animated films in the early 90s to multiple trips to Walt Disney World in Orlando, I am quite familiar with the House of Mouse. Disney Universe had a LittleBigPlanet type of charm to it: customizable costumes, large levels, and co-op play. Did I expect such a deep, detailed experience as LBP here with Disney Universe? Not exactly, but I thought it might be close enough to retain the fun factor.
Disney Universe is certainly fun, but as I played I felt a huge handicap keeping me from truly enjoying it: my age. I'm just too old for this game. While the worlds are movies I've watched since my youth, and the costumes represent some of my favorite fictional characters of all time (PUMBAA FOR LIFE), I just couldn't fully enjoy the game. Disney Universe is obviously tailored to the family crowd, as well it should be, but I was hoping that an ol' Disney fan like myself might find the same full enjoyment, and alas I did not.
There are a multitude of reasons why Disney Universe won't resonate with the older non-family crowds, but the most glaring one for me is its simplicity. Obviously a game tailored for families won't be at Dark Souls' level of difficulty, for example (could you imagine little Timmy continually getting stomped by a robot in a pirate costume? ANARCHY.), but I at least wanted SOME challenge. Even the tasks each level throws at players are way too easy (drag cannon to wheels, full cannon instantly appears, shoot targets to advance). I played through an entire world (broken up into 3 parts, and each of those parts has 3 or 4 "levels") WITHOUT DYING ONCE. My little guy in his Pumbaa costume was making mincemeat out of these enemies without any resistance at all.
Speaking of that "little guy," Disney Universe does nothing to explain who these things are or why they're even in Disney's universe to begin with. The game takes place in a virtual world run by a benevolent AI named VIC, who watches over the world and allows its denizens to roam freely and happily. That all goes awry when HEX, a more nefarious AI bent on total control, hacks the virtual world and produces hulking enemies to scare everyone away. There's not much more to it than that, after the brief explanation you don your costume and set off. War and Peace it is not, but I suppose from a family perspective it's enough background to get things moving.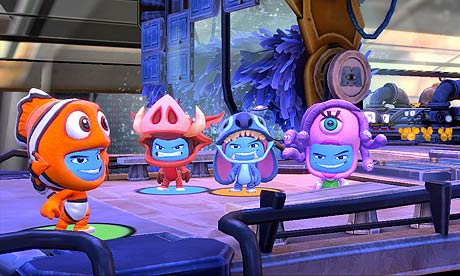 Playing the game is just as easy: moving around with the normal stick, one button to attack, one to jump, one for actions, etc.  This simple control scheme, however, acts as a gateway for those would not normally play games to get in and enjoy the fun. That's where the true strength of Disney Universe lies: in its accessibility. There's no "would you kindly" plot twists here to blow your mind, or is there any Omega Weapon-type bosses that will make you want to piledrive your controller. This is simple, clean gaming fun, tailor-made for kids who want to start playing games and parents who want a good place to start. The four-player co-op makes this an even easier decision for parents, as there won't be any "she already had a turn; it's my turn now" fights to stress over (can't help you with the costumes though…if I was a child now I'd fight for that Pumbaa costume TOOTH AND NAIL). If Disney Universe succeeds in anything, it's being accessible to absolutely everyone.
Despite its simplicity and family approach, Disney Universe does offer a giant amount of content. You'll start off with just one world, Pirates of the Caribbean, but as you collect currency (Mickey-shaped gold, no less) you can purchase new worlds from some of the best Disney films of all time, like The Lion King, Monsters Inc, and Wall-E. Each world comes with costumes to unlock as well (while Pumbaa is a starter costume, unlocking Iago was a HUGE treat). What makes the costumes more interesting is the ability to level them up, giving them more attack power and new techniques as you go. While this is a nifty RPG-like feature, it makes the rest of the costumes you'll unlock irrelevant. Why would I start back at level one just to wear Stitch when my Jafar is souped-up? Other than giving other players more choices, unlocking costumes doesn't exactly have much merit to it.
Disney Universe is made for families just getting into the whole gaming scene. The four-player co-op play will get everyone involved, the Disney label will give people some familiar faces and locales, and the simple mission structure and control will keep things from getting too difficult. Gamers have seen this before with the LEGO games and to a much grander extent, LittleBigPlanet, but there's enough freshness here to keep young folk and their parents busy for a while. Seasoned gamers of an older age won't have much to look for, but the game wasn't intended for you anyway. Go back to your Skyrim and leave Disney Universe to its intended audience: the kids.