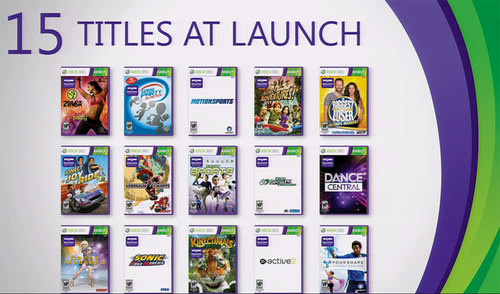 Kinect, the official name for Microsoft's long-awaited Project Natal, debuted Sunday night during the "Natal Imaged by Cirque de Soleil" event in the Galen Center of USC. Performers highlighted the kinds of experiences players will have with the new device, which was re-christened Kinect early in the show.
Monday afternoon, Mircosoft again put Kinect on display, showcasing several new titles available at launch. Among those shown were Kinectimals, a Nintendogs-esque game where players interact with up to 40 different types of playful animals, Kinect Sports, which includes family-favorite activities such as bowling, table-tennis, volleyball, and boxing, Kinect Adventures!, an extreme-sports type game that tasks players with collecting floating coins as they travel by white-water raft or other means, and finally, Dance Central, which allows players to create their own dance moves and test them out in front of friends for points. All of the games featured in the event had a heavy family-friendly vibe to them, asserting that Microsoft is serious about penetrating that particular market, which the Wii has dominated since it's launch. Your Shape Evolved, Kinect Joy Ride, and Forza 3, with Kinect support, were all on display as well.
Kinect, which is designed with gamers in mind, also allows players to video chat, browse the 360 dashboard, play and pause movies, and has the ability pivot to track players' movement if they step out of camera range. Mircosoft has said that Kinect will launch November 4, 2010. Fifteen games are scheduled for release at that time. Check out the full launch line-up below.
Kinect Adventures (Microsoft Game Studios)
Kinectimals (Frontier Studio/Microsoft Game Studios)
Kinect Joy Ride (Big Park/Microsoft Game Studios)
Kinect Sports (Rare/Microsoft Game Studios)
Dance Central (MTV Games)
Your Shape: Fitness Evolved (Ubisoft)
EA Sports Active 2 (EA)
Deca Sports Freedom (Hudson)
Dance Masters (Konami)
Adrenalin Misfits (Konami)
Zumba Fitness (Majesco)
Sonic Free Riders (Sega)
The Biggest Loser: Ultimate Workout (THQ)
Motion Sports (Ubisoft)
Game Party: In Motion (Warner Bros.)