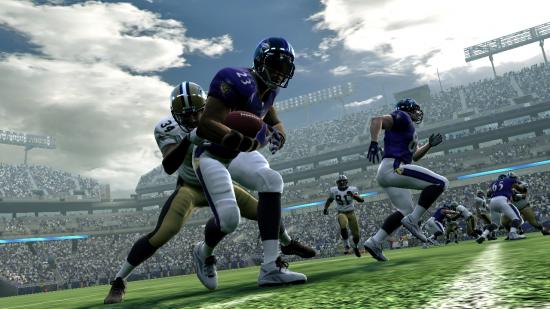 Former NFL running back Tony Davis is suing Electronic Arts on behalf of approximately 6,000 retired NFL players in a class action suit for "unlawful use" of the players' likenesses in Madden '09.
The suit claims that EA "knowingly and intentionally" used a method of bringing the players' likenesses to the game that would allow them to avoid paying licensing fees. The game featured 140 historical teams with players whose stats matched or came very close to the players filing the suit.
"EA misappropriated the likeness of retired NFL players on these historic teams by describing in each player's profile the player's position, years in the NFL, approximate height and weight, as well as each player's relative skill level in different aspects of the game, among other characteristics," read the suit. "These characteristics were consistently identical or so close to the living player's characteristics that the consumers could readily discern what player was being represented."
The suit then claimed that in order to sidestep handing out the licensing fees to the NFL Players' Association, they simply changed each player's jersey number.
"However, EA attempted to avoid license fees for use of the retired players' likenesses by placing on the 'avatar' of each retired player a different uniform number than that worn by the player when he was on that historic team," the suit stated. "Similarly, in some circumstances but not others, EA made certain trivial changes in a player's characteristics, such as changing a player's weight by a few pounds. These changes reflect a calculated and underhanded attempt to avoid having to pay any license or royalty — but nonetheless readily invoke the likeness of the player in mind of the consumer."
Davis and the rest of the former players are seeking punitive damages for deprivation and violation of publicity rights.
When asked for comment by IGN, an EA representative told the site that the company does not comment on pending litigation.