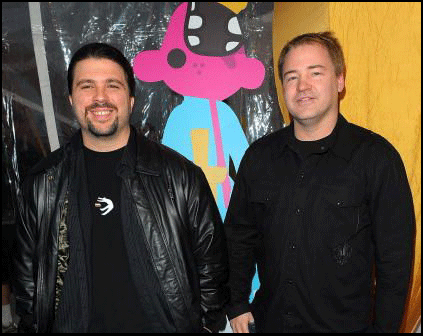 Being fired by Activision and a few lawsuit slinging hasn't stopped ex-Infinity Ward heads from starting their next game studio. Jason West and Vince Zampella have announced today that they are forming Respawn Entertainment. The company will focus on "creating state-of-the-art gaming experiences for global audience" and the press release says it "positions the Respawn Entertainment leadership team as the owners of the intellectual property they create"
Also, in a very interesting and possible expected twist, EA has been awarded exclusive publishing and distribution rights to Respawn Entertainment's future games through EA Partners program. Frank Gibeau, President of the EA Games Label commented, "This is the start of a great publishing partnership – one that I expect will develop blockbuster game franchises. Jason and Vince are two of the top creative leaders in the entertainment industry. At EA, we're honored to be their partners and to give them the support they need to hire a team and return to making incredible games."
"Respawn Entertainment marks a fresh start for Jason and me," said Vince Zampella, General Manager of Respawn Entertainment. "For the past decade we led a great development team and poured our hearts into creating an epic game franchise. We're very proud of what we built – and proud that so many millions of fans enjoyed those games. Today we hope to do it all over again — open a new studio, hire a great team, and create brand new games with a new partner, EA."
Respawn Entertainment has not announced their first game yet, but we'll be sure to keep you posted.