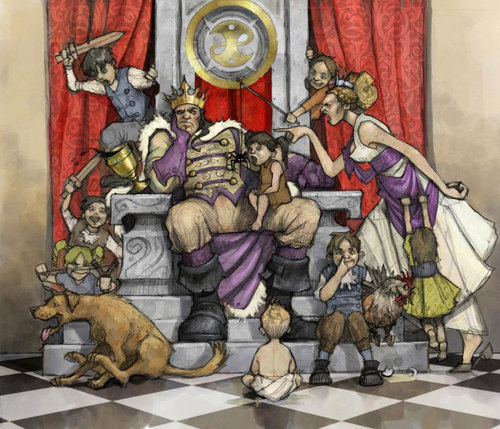 Peter Molyneux got the party started at Microsoft's Gamescom press conference with a semi-surprise unveiling of Lionhead Studios' in-development sequel, Fable III. The game is scheduled to arrive on the Xbox 360 in 2010, and Molyneux promises big changes for the series' second installment on the console.
"The kingdom of Albion is changing. The land needs a ruler. King or queen. Cherished leader or ruthless tyrant. That future has not been written. The race for the crown has begun."
This narration of the teaser trailer shown at the conference explains the premise of the new game — to play the role of Albion's newest ruler. "You are going to become the ruler of the whole of Albion. You've played in this land in Fable I; in Fable II you became a hero; this time, why not rule Albion? Why not be a king or a queen?" said Molyneux. "I want players to feel and experience what it's like to be a ruler."
Players will begin as the son or daughter of one of Fable II's heroes, and work their way up from there. The first half of the game will follow the main character's ascent to power in a kingdom ruled by an iron-fisted king. By gathering followers, allying with different factions of citizens, keeping or breaking promises, and making difficult political and moral decisions, players will shape their kingdom.
Poverty vs. greed, tyranny vs. compassion, and progress vs. tradition have been revealed as the parameters by which Albion is characterized, all based on player actions. New gameplay mechanics of Judgement and Touch will be included in Fable III. Judgement allows players to decide whether to punish or pardon wrong-doing citizens. Touch will let the king or queen shake hands, embrace, or "snog" other characters. Dynamic Touch is used to grab, for example, a child from a burning building, or to hold hands and walk with an NPC. Gone are the expressions of Fable II (THANK YOU!), so these, and possibly other mechanics will be how players interact with their world.
And just because players will be sitting on Albion's throne doesn't mean things have to be boring. Molyneux assured the gaming press that these will be hands-on rulers, and will still embark on plenty of heroic adventures after climbing to power.
"Don't expect it too early in 2010," said Molyneux. But do expect more information to crop up in the coming weeks and months.