I cannot truly express how shocked I was about Fantasia: Music Evolved.
I went into that demo expecting the same old music genre gameplay, where I'd wave my hands and wiggle my backside to the delight of onlookers waiting for their turn or looking for something funny to watch. I started it up like it was just another reason to sweat for a few minutes…
…and then the game let me choose one of the best classical pieces of all time, Night on Bald Mountain by Mussorgsky. After that the game tells me that there are three different remixes available for the song, and I can pick and choose certain instruments from each remix to make my own concoction. After that we started playing…and oh my word.
This game is less about making you dance like a fool and more about letting you conduct LIKE A BOSS. The movements you make with your hands shape the music into your own masterpiece. You're conducting in different directions. You're thrusting your fist forward (this is one of the first games to recognize Z-axis depth) and move the music along a path with that same fist. At certain points the game would let me switch select instruments I had chosen before the song, and the song would take on a whole new sound. I was literally playing with sound, and it was amazing. I felt like…well, I felt like a Sorcerer's Apprentice, which I assume is exactly what Harmonix is going for.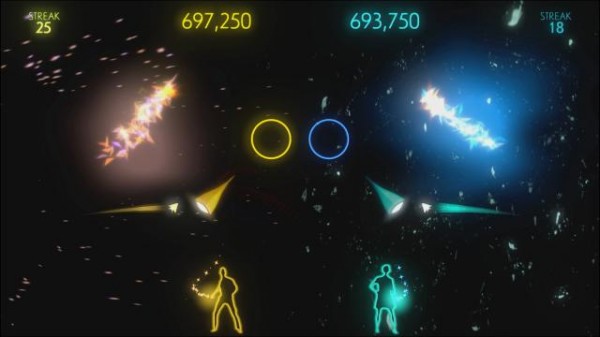 That's not even the coolest part: at a few points a triangular object would appear on-screen and the prompts would instruct me to swipe my hands along the lines of the object. If I did them all correctly, the object would open and a piece of music would appear as a line reminiscent of that on a heart monitor. Using my hands, I could stretch the tiny piece of music out to have many beats of sounds, or I could shorten it to only one or two. I could make the line of music diagonal, changing the pitch of the selection, or I could keep it straight and on one tone line. When I was finished, I put my hands at my side, and the game recorded my creation and placed it into the song, allowing me to then play what I had just created. My mind was BLOWN.
I know I haven't said as much about this game as I probably will with other previews, but please believe me when I say that Fantasia was one of the best games I played on the E3 2014 floor. I was truly amazed at how much fun I had creating my own musical remix. For those not inclined to choose classical music, there's plenty of popular music to tinker with too, like "Royals" from Lorde and "Bohemian Rhapsody" from Queen (which I almost chose), but how many games let you mess around with classical masterpieces? Not many.
I'm feeling the magic now, Fantasia.