It's that time of year again: the stage is set and the most popular sport in the world is gearing up for next year's mega event, the World Cup. For now, the various Champions Leagues are underway, and individual clubs are competing in-between their national teams' World Cup qualifying matches. So what does this mean for gamers? It means that EA Canada has put forth an incredible effort with its FIFA franchise, and delivered what is one of the best football (association football, not American football) games of all time.
FIFA Soccer 10 is easily the most polished, fluid, and comprehensive football game I have ever played. The game features over 500 individual clubs from 30 leagues in 24 countries throughout the world, as well as 41 national teams, each of which is fully customizable in terms of squad makeup, player roles, team formations, tactics, home stadiums, etc.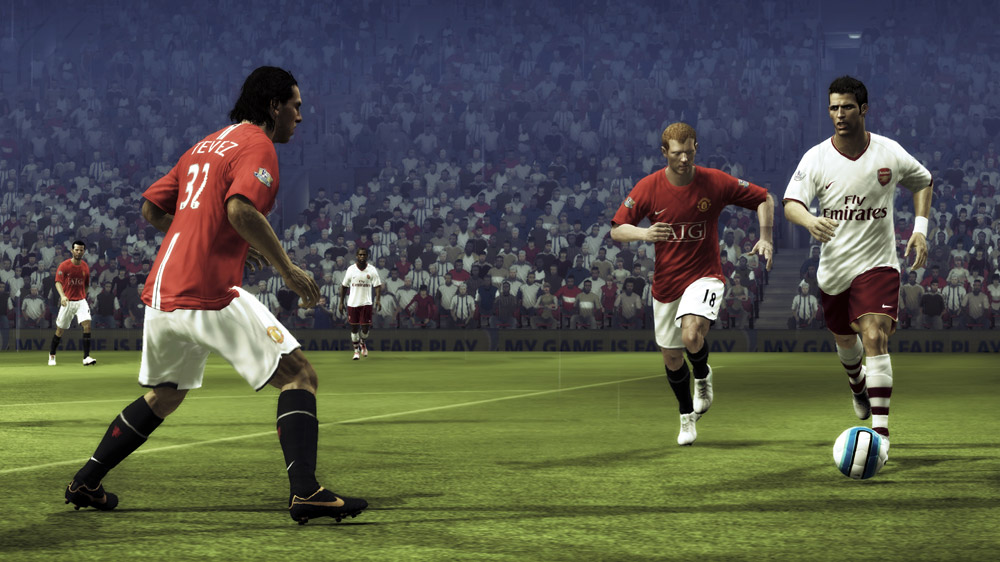 On the pitch, controlling the team is one of the most intricate, yet still managable systems in gaming. A new 360-degree skilled dribling system, by which players can use advanced moves to skip past defenders, as well as better contact between players as they fight for the ball, makes man-to-man challenges more realistic affairs. Just about everything that one might expect to see on the pitch in a professional football match is possible in FIFA 10, and moving the ball feels smooth and natural. Of course the most impressive feats of ball handling and playmaking aren't easy, and the game challenges players to develop their skills as they play. With practice, however, one can turn the game into a highlight reel usually reserved for ESPN and YouTube.
Along with the advanced player controls come smarter opponents and realistic on-field tactics. Matches, especially between top flight teams, are always intense, and statistically even matchups tend to be low-scoring ones, staying true to the sport's real-world counterpart. Each player's presence on the pitch is substantial, making careful passing and man-marking essential for earning victories. Recklessly punting the ball downfield has become just as ineffective as one might expect it to be. FIFA 10 isn't like videogame MLB or NFL, and is certainly no longer just a game of electronic fooseball; you have to earn your goals through smart and skillful play, and it feels incredibly satisfying when you do.
New to the series this year is Virtual Pro, which lets players create a football star who improves as he is used throughout all of the game's modes. It is also the first implementation of EA's Game Face technology, allowing players to create a 3D model of their own face from a photo online, and then transfer it to the game via a broadband connection. Players can use their virtual pros in the game's returning Be A Pro mode or take them online to participate in the new Pro Club Championship, where groups of players form clubs and vie for top honors in Regional Leagues against other player-built clubs.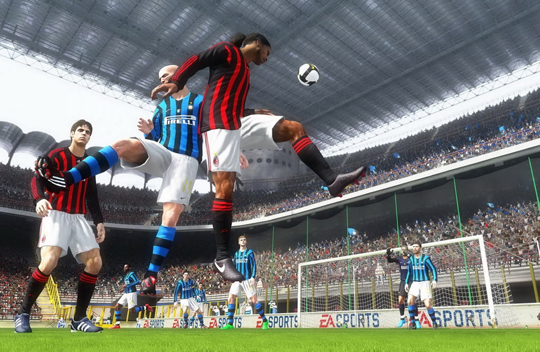 Both Be A Pro mode and Pro Club Championship place each player in the role of a single footballer throughout the entire match, and are as much learning experiences as they are competitions, especially the former. With constant rewards and punishment for my performance, I found myself paying less attention to the broader scope of the action on the pitch than to my chosen player's positioning, passing, ball control, and shooting. The feeling is reminiscent of individual participation in real-world sports, where players are but a small part of a bigger machine, and must operate in synergy with others for the good of the team. The downside to these game modes is that players have far less control over the development of each play, and may at times feel detached from the action, or even less interested in the game. Playing online, however, the adrenaline rush of competition minimalizes that feeling.
Building upon what was available in FIFA 09 is Live Season 2.0, something that has the potential to be a footie fan's dream come true. In this mode, players download the current schedules and scores of the league(s) they'd like to follow and participate in, then have the opportunity to re-play and alter the outcomes of those matches in their personal season, all the while tracking progress against what is happening in the real world. With each match, the virtual teams have only one shot at "changing history," as there is no retrying the matches downloaded from EA's servers. Friendly games are available, but when it comes to the big show, everything's on the line, and just like in real life, players will find themselves feeling the pressure of all that is riding on each contest.
Finally, Manager mode has been heavily reworked with big improvements to the transfer system, player development, scouting, and financial matters. Opposing AI managers will make wiser decisons both during and outside of games, too. The assistant manager feature is a big help for less savvy managers, and will take care of much of the match-to-match minutia when activated. For pros, though, this mode is a surprisingly deep experience for a game that is not entirely dedicated to team management.
FIFA 10 is an all-around winner. Not only does it greatly expand upon previous franchise iterations, but the improvements to its core gameplay prove that EA Canada is devoted to what matters most to fans, and makes this game one of the greatest virtual translations of association football to ever grace videogame consoles.