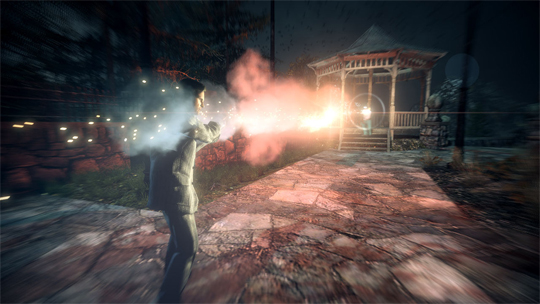 Oskari Hakkinen, head of franchise development at Remedy Entertainment, has revealed that the DLC for Alan Wake will not extend the its core storyline, but will offer a "different perspective" on the events in the game. The first episode, The Signal, has been scheduled for release on July 28th.
"We are doing some game add-ons like we've announced," said Hakkinen. "These will be standalone episodes that will bridge between season one and hopefully the possibility of doing a season two."
"The game add-ons aren't telling more of the story, so to speak. It'll give you a different perspective on the things you've done on season one and then try to set you up for the possible things you're going to do in season two."
He also assured that the retail release is not a less substantial product in anticipation of the new episodes, saying, "Season one — just to be clear — is a full package and you'll unravel the mystery and reach all your goals."
Having played Alan Wake, I'll be glad to see the main plot fleshed out from a different perspective. As indicated in my review, the main game seems intentionally ambiguous, and I suspect these new episodes — the first of which will be free to retail customers — may clear some things up… or maybe they'll just continue to pull a Lost on us.
[CVG]