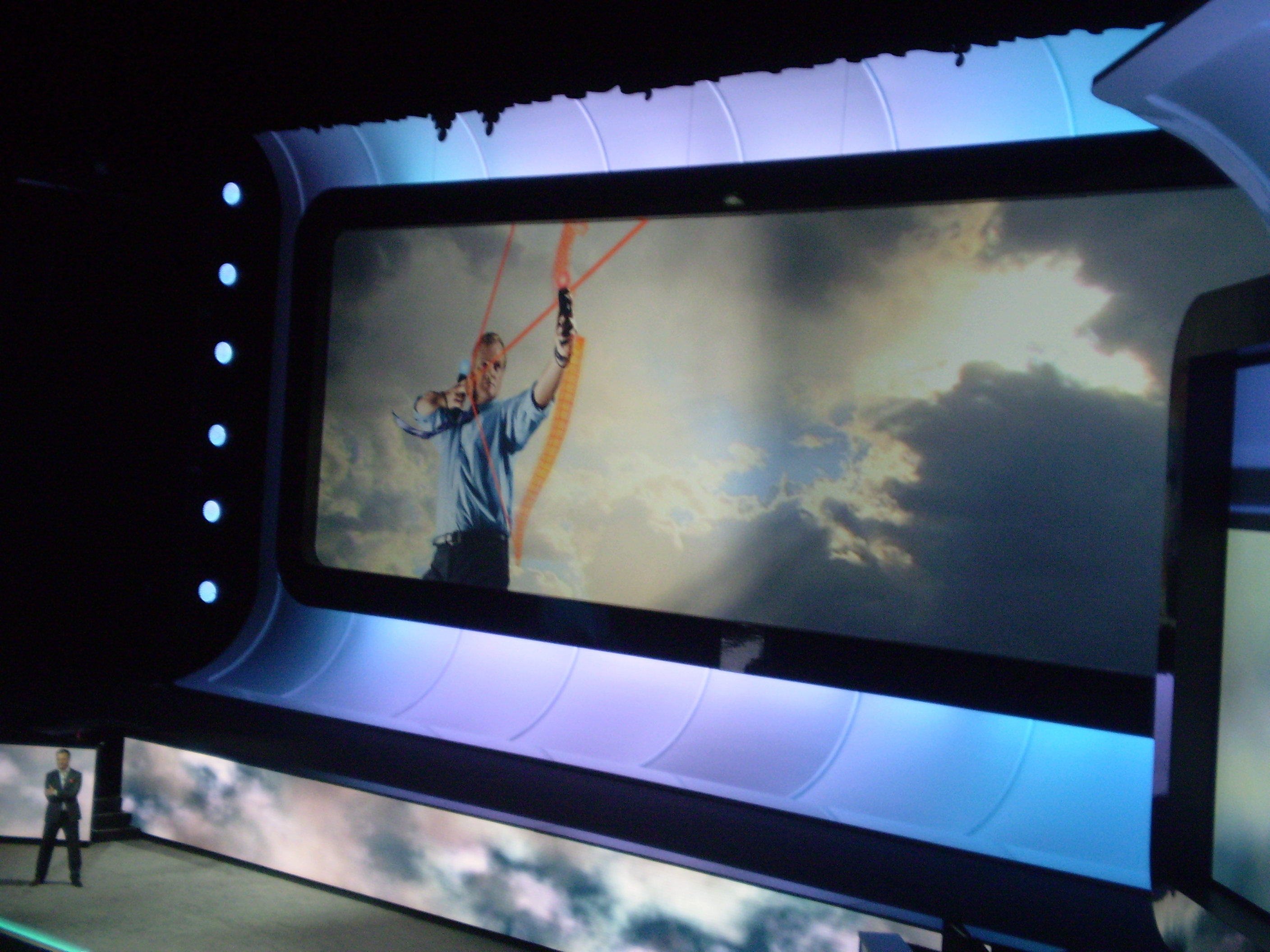 At the Shrine Theater in downtown LA, Sony held its press conference for E3 2010 and GamerNode was in the front row! Front row of the balcony that is.
As I watched the conference, I jotted down my notes and thoughts in blog format. So here is my step-by-step descriptions and reactions to Sony's time on the big stage.
GN Play-By-Play: Sony Conference 2010:
11:58 AM – Montage of games, some for Move, and features for the PS3. Games involve Shank, Marvel vs. Capcom 3, Dead Space 2, and more.
11:59 – Jack Tretton opens show. Said no need for ponchos (shot at Microsoft). Welcomes everyone back saying that PS has momentum on their side. Talks of growth of PlayStation 3 and its accessories.
12:02 PM – Kazuo Hirai brought out. He's here to talk about 3-D. Says that 3-D is first about innovation, second about content. Says Sony is undisputed leader in 3-D. Super Stardust, Pain, Wipeout HD will be downloadable from PlayStation 3 in 3-D. 20 Titles to be 3-D capable by March 2011. Says Killzone 3 is most anticipated 3-D title.
12:05 – Killzone 3 to do an on-stage demo. The demo is going to feature two sections from 4th level of the game.
12:07 – Everyone is told to put on their 3-D glasses as the live demo in begins in said dimension! Our demonstrator fights against flying enemies in a wild firefight. The gun juts out in 3-D as bullets whirl past. Jetpack action in 3-D! Jumping from iceberg to iceberg across a wintery river via the jetpack. The depth 3-D is giving the game is surprisingly awesome. He makes his way into the nearby compound. Another firefight ensues as player jetpacks and runs his way through the map taking down foes. He plants a charge and blows up depot in a great 3-D explosion.
12:11 – The second section of the demo starts as our demonstrator is now on mounted turret in airship assaulting an enemy base. A drop ship escapes from base, but is eventually gunned down in a short chase sequence.
12:12 – Killzone 3 announced to release in February 2011 exclusively for PS3 and will have PlayStation Move support.
12:16 – 3-D video montage featuring Gran Turismo 5, EyePet, Sly Collection, Crysis 2, and more. I am taking back my skeptical view on 3-D making its way into games. The scenes looks great.
12:18 – Tretton is back. He does some corporate yanking by talking about continued success of the PS2. Then moves on to PS3 and eventually transitions to the PlayStation Move.
12:20 – Peter Dille talks Move. Says it will allow a new level of precision that will appeal to core gamers.
12:23 – Video montage of several developers talking about the benefits of the PlayStation Move.
12:24 – Dille speaks how buttons on the Move controller allow for the precision. Also says more new titles will be coming with Move support.
12:26 – Sorcery is announced, an action-adventure game where players control a sorcerer's apprentice. Players can combine spells to take out enemies like freeze and shatter, catch them in a fiery whirlwind, and more. Potions can also allow players to transform into several creatures. These transformations will help gain access to previously inaccessible areas. The game is arriving in 2011.
12:32 – The potential for sports games with the Move is now being shown with Tiger Woods PGA Tour 11. With Move, players will have to do an authentic golf swing. Flicking of the wrists won't work like they do with Wii Sports. The game is designed to be about feel.
12:38 – Heroes on the Move is now announced. The game will join the PlayStation's most memorable platforming heroes together. This includes Jak, Ratchet, Sly, Clank, Daxter, and more.
12:40 – Tretton announces that PlayStation has signed an endorsement for Coke to feature the Move on several of their products. Essentially, more corporate wanking.
12:41 – Kevin Butler interrupts Tretton and hits the stage at E3 to a huge applause! He makes a veiled insult at Microsoft's Kinect show with Cirque Du Soliel that occurred on Sunday. Says that it's time to stop focusing on the motion control race and instead focus on the games themselves. He begins to go into a long, proud rant of why he loves games.
12:45 – The rant turns into an epic speech that only the likes of Butler can deliver on this stage. A photo of Butler using the Move controller as a bow and arrow fades into the cloudy backdrop behind him. Epic music chimes in as he finishes up strong. Kevin Butler is the man! He gets a huge hand from everyone in attendance as he heads off stage.
12:46 – Tretton is now back to discuss the launch details for the Move. Europe will be getting it first on September 15, with North America having it four days later on September 19, and Japan will need to wait until October 21. The Move camera, controller and Sports Champions game will come in a bundle for $99 for release and a PS3 bundle with all of the former included will be priced at $399.
12:49 – Another video montage, this time for games to be used with the Move. One of the included games is a new Time Crisis title!
12:54 – A new PSP marketing campaign is being unveiled with two "Meet Marcus" commercials. Comedy gold they are, as the first one has a heavy cameo from Kevin Butler.
12:57 – A teaser trailer is shown for God of War: Ghost of Sparta. The game will be a PSP exclusive and apparently act as a prequel.
12:58 – Yet another montage. This one features games that are coming soon to the PSP. They include Madden NFL 11, Dragonball Z: Budokai Tenkaichi Tag Team, Patapon 3, Tetris, Kingdom Hearts: Birth by Sleep, The 3rd Birthday, and Valkyria Chronicles 2.
1:01 – The PlayStation Network is now the topic of discussion. The first season of the Tester was so successful that there will be a second season in the fall. Tretton announces that for those not at E3, you can do a virtual walkthrough and demo play of everything Sony has at E3 via their PlayStation Home booth. He then discusses how much community content from LittleBigPlanet and ModNation Racers has floated around the PSN.
1:05 – Alex Evans is now here to talk LittleBigPlanet 2. He shows how with the expanded modding abilities in the game, essentially any genre of game can be made and played by the community. This ranges from Shooters, Adventure, RTS, Racing, and more. The game looks incredibly impressive and the right kind of a sequel for a game like LittleBigPlanet.
1:10 – The PlayStation Network subscription package is now going to get detailed. The pay service will be called PlayStation Plus. Players who subscribed to PlayStation Plus will get exclusive DLC, early demos, accesses to game betas, and more. The service will cost players $49.99 for a one-year subscription and $17.99 for a three-month subscription. It will be launching later this month. Unfortunately any content that is owned through the service will only last for the duration of the subscription. Essentially meaning that if you stop paying, you lose your exclusive DLC maps, themes, and anything else exclusive to PlayStation Plus members. Lame.
1:14 – John Chapp has now come to the stage to talk EA Games and the PS3. He says that two new EA titles will have exclusive content with the PS3. The first of the two shown is Medal of Honor.
1:15 – A trailer featuring the characters of Medal of Honor plays. The newest character, Deuce, is announced and shown in the trailer.
1:17 – A new map for multiplayer is revealed, called Dinagal Camp. A video showing off the map and multiplayer action is unveiled. The game seems like a mixture of Modern Warfare 2 and Bad Company 2, and that's a good thing.
1:20 – The Limited Edition of MoH is detailed. It will come with an HD version of Medal of Honor: Frontline.
1:21 – A video demo now plays for Dead Space 2, the second new EA game to have exclusive content for the PS3. In the demo, Isaac fights off a huge, ugly beast of a boss through and eventually outside of a space ship. The game looks to be just as intense as its predecessor.
1:23 – The Limited Edition of Dead Space 2 will have Dead Space Extraction bundled with it.
1:24 – Gabe Newell comes out for Valve! He jokes about how based on things he's said in the past that he was afraid the Sony reps were going to punch in the face for showing today. Getting serious, he says that the needs of developers are changing. He announces that Portal 2 is coming to the PS3! He even claims that the PS3 version will be the best! Talk about a sudden and complete change of heart!
1:27 – The first Portal 2 trailer is shown. Nothing much, but still gets you pretty excited. It's coming sometime in 2011.
1:28 – A Final Fantasy XIV trailer is presented. Game looks interesting, but there really wasn't any gameplay shown. Hopefully it will be more impressive than Final Fantasy XI.
1:30 – Mafia II will be getting free DLC exclusively on the PS3. Assassin's Creed Brotherhood will also have exclusive DLC in the form of maps on the PS3 as well as an exclusive demo for the console. Looks like someone's turning the tide in the exclusivity war.
1:32 – We are treated by an Assassin's Creed Brotherhood multiplayer trailer. Not much to draw conclusions from. Seems mostly a cinematic for the mode and definitely not gameplay.
1:35 – One last montage of all the upcoming PS3 titles.
1:37 – We are now shown a trailer for Gran Turismo 5. The game looks quite impressive. It will have 3-D support and will be releasing November 2, 2010. Very nice.
1:40 – InFAMOUS 2 is official! Teaser trailer looks great. The game will be coming in 2011!
1:42 – Twisted Metal for the PS3 is finally announced! Video of two cabbies talking about the best racing/deathracing game series ever. Both drive off and from the alley comes Sweet Tooth! It's a PS3 exclusive and will be coming in 2011. It will have online multiplayer for up to 16 players in versus and two to four players in online co-op.
1:47 – Nuke mode is announced and we get a demonstration. The mode will be faction vs. faction. Each faction will have a massive statue of their party leader, and it is your team's job to destroy the enemy faction's statue. In order to do so, players will have to capture the faction leader of the opposing team (i.e. Sweet Tooth). After capturing the leader, the player who has done so must drag him or her to their missile launcher and sacrifice them to it. Once that is done, a player controlled rocket will be launched towards the statue. Players can destroy the rocket by shooting it out of the air. The first team to hit the opposing faction's statue three times wins the game.
1:57 – Tretton wraps up the conference and thanks everyone for being at the show. A strong and impressive showing by Sony. However, I'm not sure if it could beat out the amazing job Nintendo did this morning.