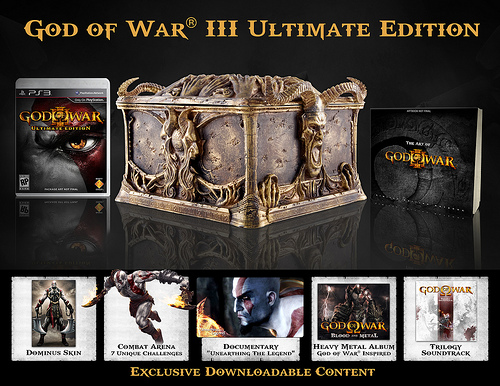 If you're a game is a high-profile release, you can expect to receive an extravagant (Insert Title Here) Edition. Not to be outdone, God of War 3 is set to compete with Call of Duty: Modern Warfare 2 for craziest box set for a video game. Dubbed the God of War 3 Ultimate Edition, the set includes a replica, high-end sculpted Pandora's Box from the game and a limited edition art book.
The set also comes with a bunch of downloadable content that will be accessed from the PSN Store with code vouchers:
– God of War Combat Arena containing an exclusive environment and seven challenges
– Premium Kratos Skin – Dominus
– God of War: Unearthing the Legend Franchise Documentary – a full-length movie documentary depicting the history of the God of War franchise
– God of War Trilogy Soundtrack – God of War, GoW II, and GoW III scores (mp3 digital download).
– God of War: Blood and Metal EP – a heavy metal homage featuring original music inspired by God of War (mp3 digital download).
Also, if you pre-order either edition, you will gain early access to the E3 demo starting today. No price has been said for the set, but retailer Gamestop has it listed for $99.99 as of this writing. God of War 3 is set for release March, 2010.