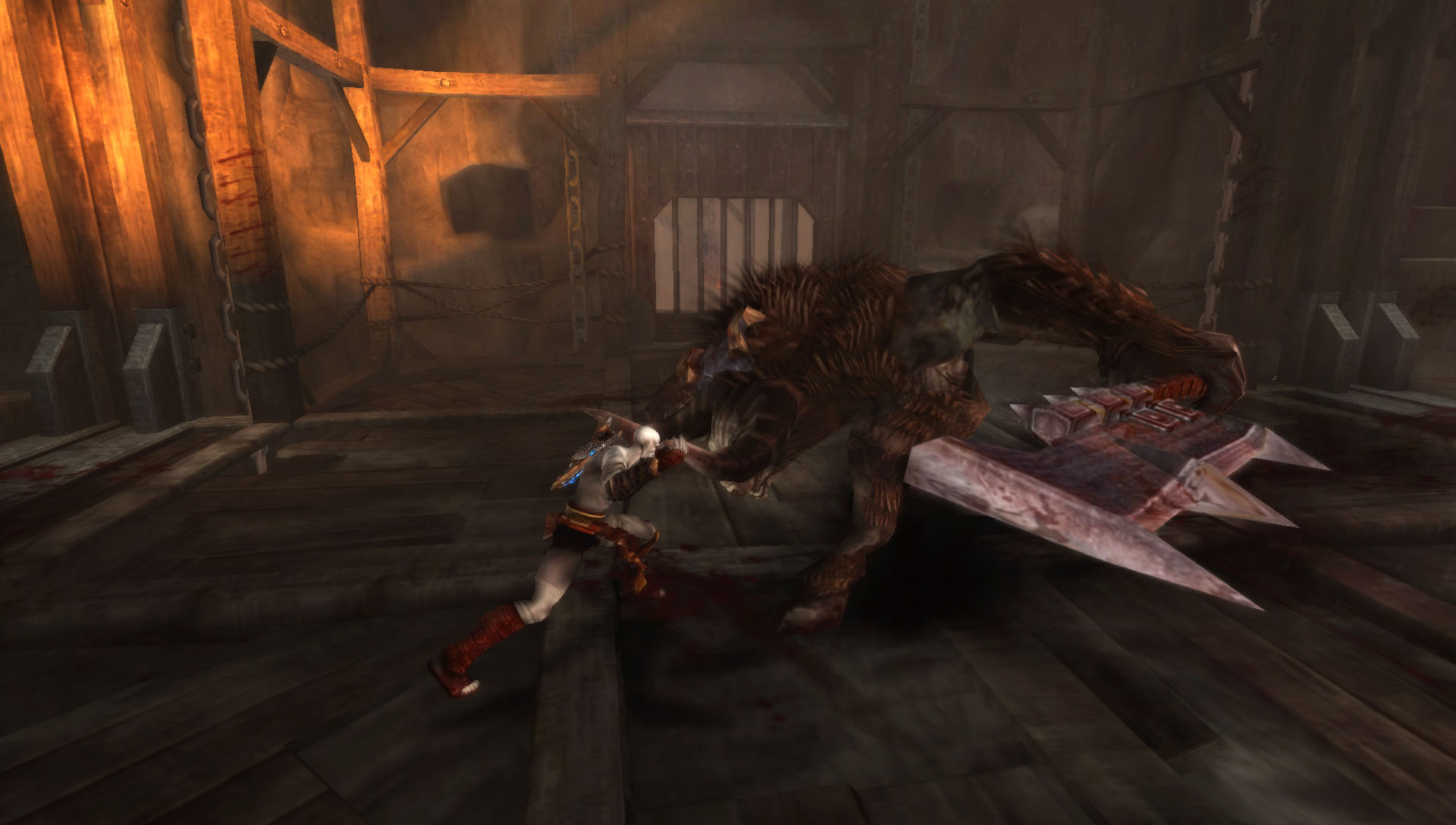 God of War: Ghost of Sparta continues a long tradition of great God of War Games. Ready at Dawn studios has taken what they've learned from their previous effort, Chains of Olympus, incorporated some new elements introduced in this year's God of War III, and have come up with what is easily the best handheld God of War game to date, even if it does little to truly drive the franchise to new heights.
Those who are familiar with the God of War formula generally know what to expect in Ghost of Sparta: lots of slashing, blood, QTE finishers, and massive (even on the small screen) environments. What they may not expect is a level of cinematic polish comparable to the God of War console titles here on the PSP. Ghost of Sparta is like a God of War console game built specifically for the handheld, meaning its scope is in no way narrowed by its miniature format. It obviously can never match the technical prowess of its PlayStation 3 brethren, but it is the next best thing. The wonderful panning, zooming, and sweeping camera returns to show off Kratos' many mythological foes and various epic environments, and the Spartan's boss encounters are just as dynamic as ever, multi-tiered and massive.
Ghost of Sparta rarely lets up on the action. By action, though, I really mean interesting things to do and see; it is not, in fact, a nonstop bloodbath as some might expect. No, in actuality, the less refined elements of previous God of War games, such as acrobatic platforming and exciting NON-combat set pieces, have been given more consideration this time, rounding out and improving the overall experience. From combat, to platforming, to narrative, to some light puzzles, I never felt like I was wasting my time on anything, which is great, especially on a handheld. If anything, I could have used a few less plank-walking, balance-beam sessions, but that's a small quibble.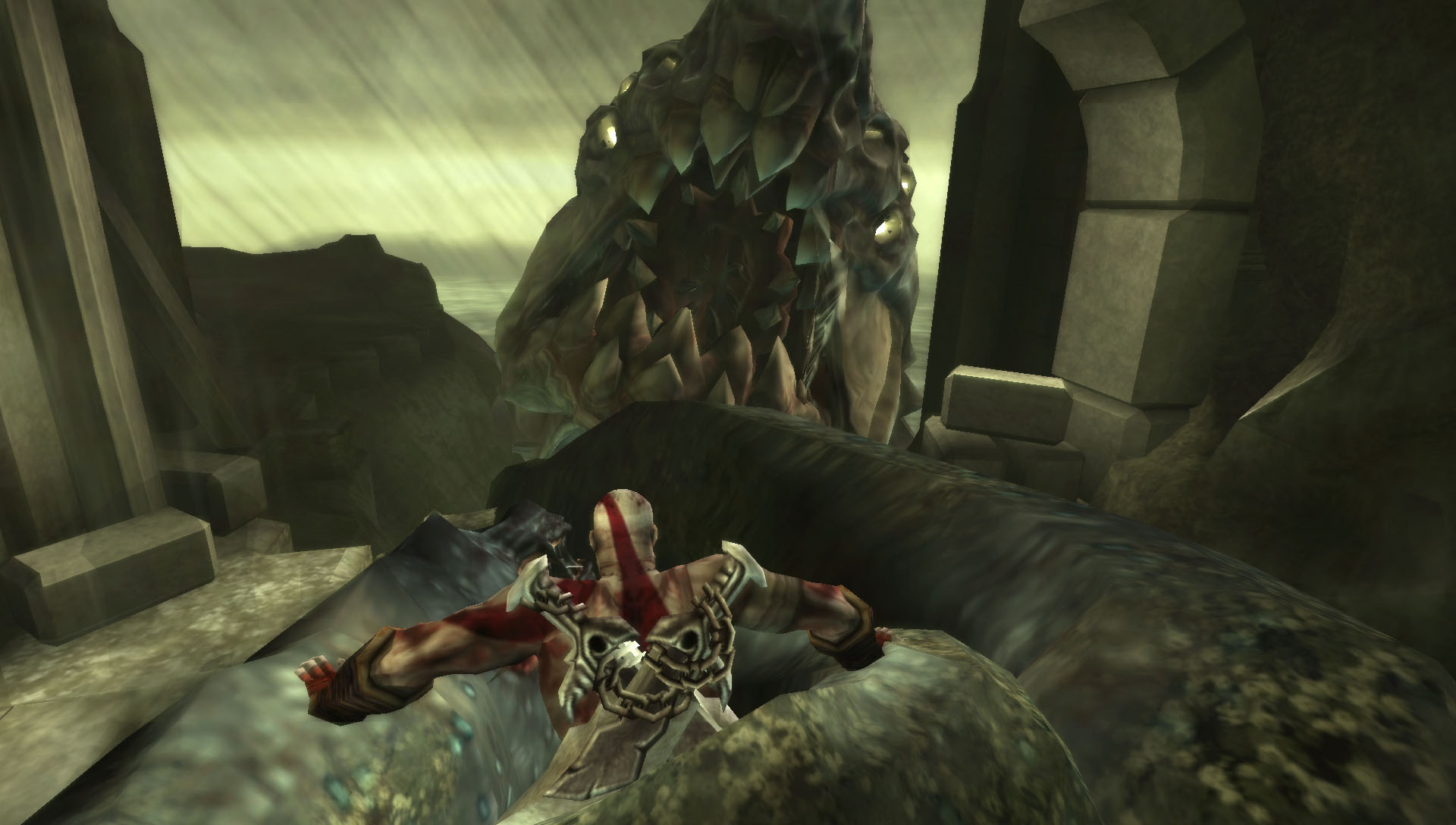 What's great about Ghost of Sparta is that Kratos is not just out for revenge in this adventure, which takes place right after God of War, but is instead on a search for his brother Deimos. Through certain scenes and flashbacks, players are even given a glimpse at emotions other than rage from the hardened protagonist, which gives the ever one-dimensional character at least a little bit of depth. The franchise hasn't suddenly turned into an Oscar-worthy drama, but there are now a least hints of a man inside the brute, something we've rarely seen from Kratos.
The core of the game, though, is still all about murdering the opposition in the most gruesome and animalistic ways possible. With new abilities like flaming Blades of Athena, which deal extra damage and destroy armor, and a running football tackle (The Spear) lifted right out of pro wrestler Bill Goldberg's playbook, there are plenty of ways to kill. There is also a new set of magic, usable directly via the d-pad without any modifier buttons, and a spear/shield combo that enables both long- and short-ranged offense and allows Kratos to block while moving. Honestly, though, does anyone ever abandon blades attached to chains for anything else? I don't think so.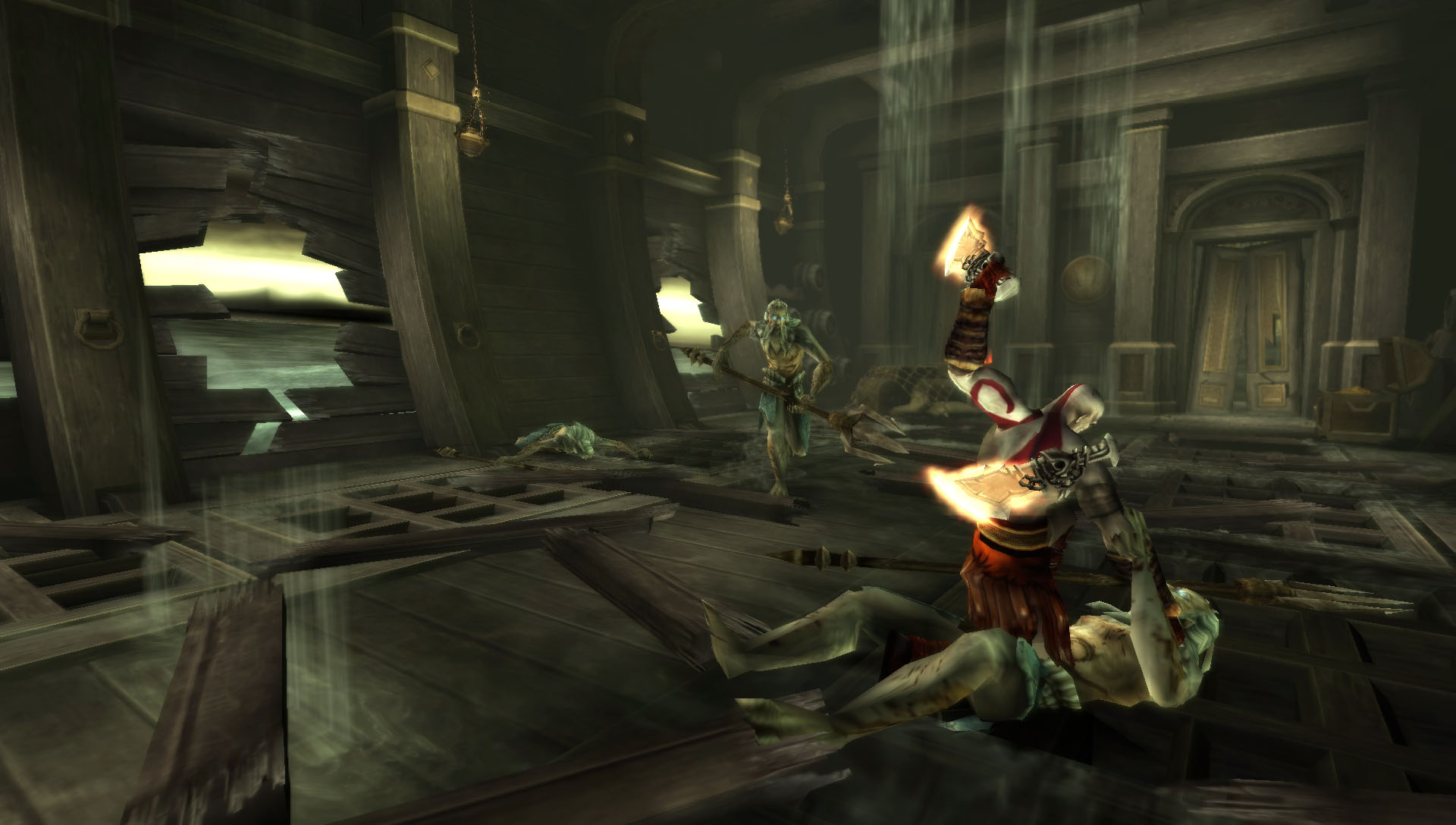 Like God of War III before it, Ghost of Sparta shifts its finishers' button prompts to the appropriate sides of the screen, allowing players the luxury of viewing the well rendered violence set before them, and making it even easier to hit the correct button without even trying. Those who have played Chains of Olympus will also be happy to know that Ghost of Sparta features far less use of the analog nub during these sequences. This adds to the feeling that everything has been put together to make Ghost of Sparta flow for the player, and it absolutely does.
Perhaps resisting this flow, however, is what the God of War franchise still has not adopted from well crafted imitators such as Dante's Inferno and Darksiders. Ghost of Sparta sees no changes to its skills upgrading system. Players will again collect red orbs from defeated enemies and use them to improve weapons and spells level by level. There are no branching skill trees or meaningful choices to be made, and everything will hit its maximum capacity in roughly the same way every time. The freedom of choice offered to players in the arguably superior systems found on those other titles is absent, and may have been a missed opportunity in Ghost of Sparta.
Still, this is an excellent God of War experience. Ghost of Sparta uses the PSP's full potential and nails the franchise's big-screen feel in the handheld format. It may not elevate the franchise to new heights, but outside of revamping the way the entire series feels, the only way to produce a better God of War game on the PSP may be to simply upgrade the hardware.