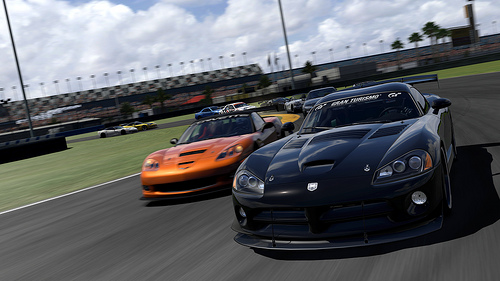 Even though we received Gran Turismo 5 Prologue last year, don't forget that we are still owed a real Gran Turismo 5, and a demo of said game looks to be coming out in the form of a competition. Sony has announced that Gran Turismo Time Trial Challenge will be coming to the PSN Store on Dec.17. The demo is powered by Gran Turismo 5's new physics engine, tech that is presumably from the upcoming game, and will have players competing for the best lap times to win a trip to the Indianapolis 500. European players will be competing for a chance to enter the GT Academy, a program that grooms them to race in the European GT4 Cup in a real Nissan 370Z.
I think we got shafted in the prize department.
Players will have access to both a tuned and stock Nissan 370Z in the demo, each car including their own time trail event on a single track. The player who posts the best time by January 5, 2010 will win. Still no word on GT5's release date, but hopefully this demo is a sign of marketing ramping up for the title.