A year ago at PAX East 2011, I got my first taste of ArenaNet and NCSoft's highly-anticipated MMORPG, Guild Wars 2. The 45-minute demo was far too short to get a true feel for the most important mechanic in the game: cooperation. With ArenaNet hosting the title's first open beta weekend for advanced purchasers, I was allotted hours upon hours of time to finally gather a sense for just how Guild Wars 2 aims to improve interaction between players. One thing is certain: Guild Wars 2 thrives on its revolutionary, friendlier environment.
In a typical MMO experience, I almost always find myself scowling at players outside my party. They'll try to steal my kill, ruin my quest, refuse to help me as I get slaughtered, and take my crafting nodes. These people are not welcome in my vicinity, and I'm certainly not welcome in theirs. In the Guild Wars 2 open beta, though, I breathed a sigh of relief whenever a fellow traveler entered my hunting grounds, because ArenaNet has eliminated those frustrating play mechanisms.
It took a little getting used to at first. A player would approach a tree or other gatherable object, and my competitive, jealous MMO instincts would kick in; he was stealing it from me, I'd think.  But no, although other players had tapped the node for themselves, the resource remained available for me. My tensions eased, I could complete quest areas completely free of the normally ubiquitous online animosity.
Instead of doling out kill credit and rewards to one player, in Guild Wars 2 everyone who deals damage will earn experience points, quest progression, and a chance at loot. In other games I curse the presence of others, and vice versa, but here, everyone helped each other to defeat whatever menace was terrorizing the area. If one of us fell in battle, the ability of everyone to revive anyone had us flocking in groups to get that player back into the fight. I bonded with these companions, and felt a sense of community deeper than in any previous MMO.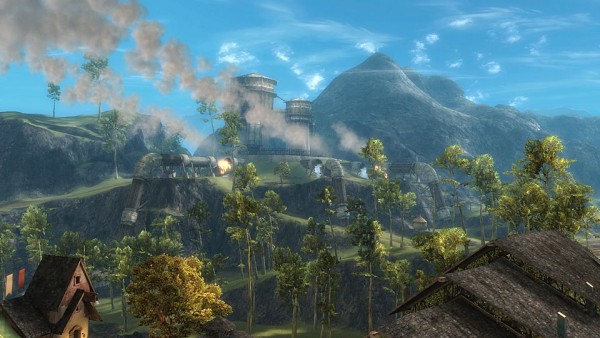 Nothing showcased Guild Wars 2's sense of community and cooperation more than its dynamic events system. In the starter area for humans, Queensdale, the nation of Kryta is in a perpetual conflict with the centaur race. Because of this, battles for outposts erupt frequently and the human AI soldiers need the help of players to overcome the might of the centaurs. Whenever players travel close enough to an event, their map will alert them to where heroism is needed. The events scale based on participation: as players join the fight, the game sends enemy reinforcements to ensure the battle remains challenging.
Seeing tens of players flocking to a contested point on the map, banding together to push back the centaur forces, was one of the most exciting gaming experiences I've had. Healing and support skills flying through the air, players frantically trying to revive each other, and fantastical weapons clashing in the din of combat instill a real sense of satisfaction at the close of a successful battle – and dismay in retreat.
When the Beta Weekend Event came to its end, I felt a sense of loss. Not because of the changes to combat, or the game's unique art style, or its vast and impressive cities. I was saddened because I wouldn't be able to roam about the world, saving and defending it with the people around me. If Guild Wars 2 upholds this sense of community after release, then it will spell a new, friendlier era for MMO gamers.