[viddler id=1ce3afa6&w=900&h=570]
A transcription of the review is below:
John-117 returns to relive his first battle against the Covenant in Halo: Combat Evolved Anniversary, a reimagining of the original smash hit. Fond memories of LAN parties and almost-ended friendships will surely rise to the surface as fans re-experience the game that made Master Chief a household name. However, with other more modern Halo experiences to be had, including one that this game borrows its multiplayer from, does Anniversary stand the test of time? Of course it does! Was there ever really a doubt in your mind?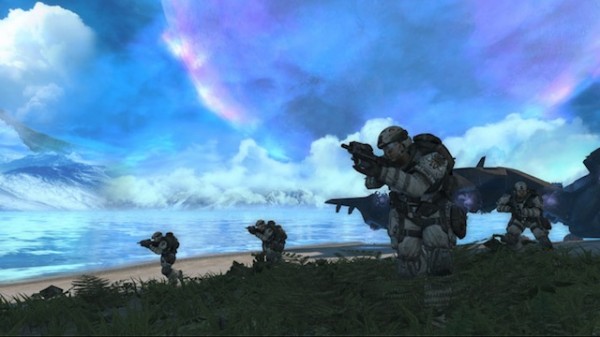 The campaign is a trip down memory lane, reliving Master Chief's first major conflict with the Covenant fleets. Other than the graphical touchups this campaign has not changed, but it didn't need to. The experience is still as action-packed as I remember it back in 2001. If anything, the modern control scheme vastly improves the overall experience. Not only did I find it easier to aim my weapons with the 360 sticks, the new Halo Reach button layout compliments its ancestor perfectly. Of course, not every aspect of the controls saw an improvement, as driving the warthog is still as frustrating as it's ever been. Seriously, I lost control and drove it over a cliff more times than I care to tell, suffice to say I have less hair than I did before.
But nowadays when people think Halo, they think of multiplayer. Halo Anniversary borrows its multiplayer from Halo Reach in every aspect except the maps. Same Reach weapon loadouts, same credit-based leveling up system, even the same loading screens. Hell, the system thinks you're playing Reach when you switch to multiplayer, and your Reach character willl even carry over. This isn't a bad thing, as Reach sported stellar multiplayer that is just as good here. However, I did find this choice to be a bit disappointing. Halo 1's multiplayer is still my favorite of all the Halo games, and I would have loved the chance to play the old way, but with the same new visuals and without needing multiple consoles and a ton of wires. Reach multiplayer on the remade classic maps is still a great time, but I was hoping for more of a classic feel.
Despite the multiplayer disappointment, Halo Anniversary is still a fantastic way to revisit turn-of-the-millenium gaming, and I give it a score of 4 out of 5. Thanks for watching everyone.