I finish my twenty-minute session with Hawken, a game that until E3 2012 I hadn't heard of, and I immediately seek out the nearest team member. I am quite impressed with what I had played, but I have a few questions on the background of the game. As the team member explains what Hawken is to me, he says a particular phrase that I never expected him to say:
"Free-to-play."
Wait, what? This game, with its deep, frantic combat and environmental detail unlike anything I've ever seen before, is free-to-play?!
Free-to-play games always seem silly to me. Sure, they're free to download, install, and boot up, but if any player wants to actually compete in these titles, paying for character enhancements is essential (see this Penny Arcade comic). That air of misdirection always makes me wary, and I usually leave free-to-play games alone.
Now I've had a taste of this forbidden fruit in Hawken, and I just want to play more. I think the "free-to-play" model may have finally sucked me in.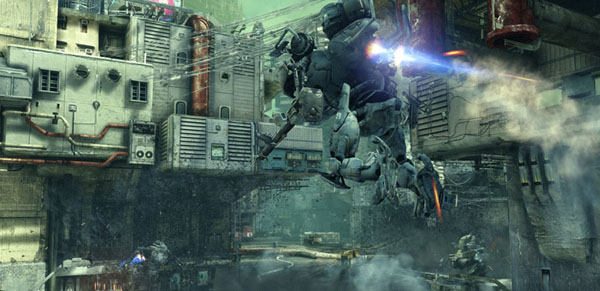 Hawken put me in the pilot seat of a giant, bipedal mech, from a first-person perspective. I had my choice of one of multiple "classes" and even more weapon combinations. When the battle started, I started moving my mech forward, and it lurched and stomped like the giant that it is.
Uh-oh, I'm thinking to myself, does that mean combat will be as slow and clunky as I'm moving now? I sure hope not.
Luckily that's not the case at all, as these mechs can move. One press of the Shift key and my rocket boosters engaged, allowing me to travel around the stage quickly. Space bar made me jump into the air, allowing me to quickly evade any ambushes from behind by jumping over obstacles. These quick movements use fuel, however, so I had to budget my quick movements or risk becoming immobilized.
The surprisingly mobility of these mechs make for fast and frenetic combat. There were times where I was hunting down an enemy, jumping over buildings, and firing my missiles in pursuit, and others where I was the hunted and I had to evade my attacker. In each scenario I sometimes forgot that I was even in a mech; the fluidity of movement led me to think I was controlling a person rather than a machine.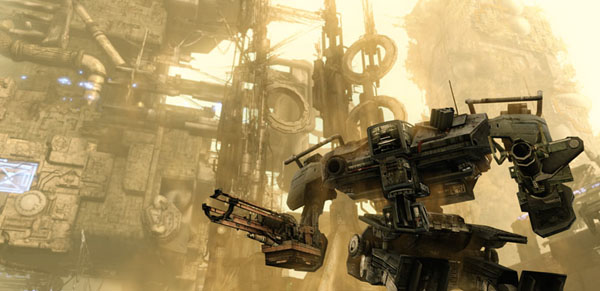 Perhaps the most impressive thing about this free-to play experience is the visuals. These environments are simply gorgeous, an odd compliment for an area so ravaged by war. The skyscrapers stretch out as far as the eye can see, sporting scars of battles past from foundation to peak. During a firefight, sparks will fly off of whatever a bullet hits and small fires will break out both in the environment and on the mechs themselves. Hawken sports an incredible amount of graphical detail, especially for a free-to-play game.
I truly am at a loss for words for Hawken. I really enjoyed what I saw of the game, from the intense firefights to the amazing environments. When I heard that it would be free-to-play, I was even more impressed. If Hawken brings the same quality experience I had at E3 to the world when it launches on 12/12/12, I have to think that we'll have a new F2P champion. We'll see what happens in December.