Mortal Kombat vs. DC Universe was a nightmare for fans of both franchises. Mortal Kombat fans lost the over-the-top violence they'd grown to love. DC fans, because of that limited violence factor, lost the ability to unleash bloody hell on opponents with Superman and Batman. MK vs. DC left a bad taste in the mouths of many; a taste that was lightly sweetened the 2011 reboot of Mortal Kombat.
MK fans were able to quench their thirst for blood, but DC Comics fans still lacked a game for beating the kryptonite out of each other with their favorite characters. NetherRealm has heard the call, revealing Injustice: Gods Among Us at this year's E3. Injustice takes the excellent fighting engine introduced in the Mortal Kombat reboot and adds some superhero flair, pitting the biggest DC superheroes and villains against each other in… well, in mortal combat. Among the first announced playable characters are Superman, Batman, The Flash, Solomon Grundy, Harley Quinn, and Wonder Woman.The E3 closed-door demo showed off two matches: Superman vs. The Flash in the Batcave and Batman vs. Solomon Grundy in a cyber-urban area known as "Future City."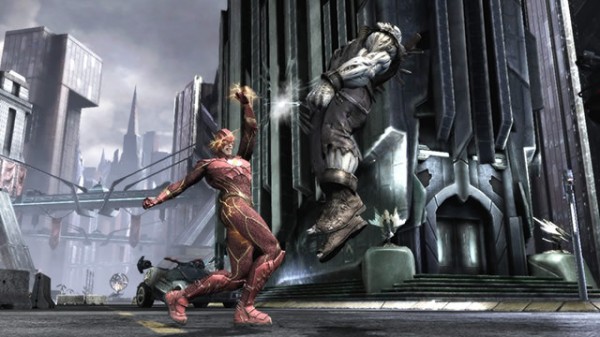 Superman vs. The Flash showcased the basic fighting engine, mirrored by last year's Mortal Kombat. Both fighters chained standard strikes into combos and displayed their unique special moves, like Superman's heat vision and the Flash's insane running ability. This bout also introduced a meter system that builds to bombastic super moves: Superman punched Flash through the stratosphere before flying to meet him and smashing him back to Earth. Flash ran around the world, a la Zell's My Final Heaven in Final Fantasy VIII, and delivered a huge punch to Superman when he returned. These moves sport a cinematic dash that is awe-inspiring; the room was roused into laughs and cheers when Superman flew into space to bash the Flash.
The interactive environments in each arena impressed even more than the outlandish supers. In two to three different "stages" per arena, players can knock their opponents through walls into separate areas in a manner very similar to Dead or Alive. Coupled with that is the ability to take objects from the backgrounds and use them against your opponent. At one point Superman was advancing on Flash, who was standing near a console with a button. Flash pressed the button, and missiles shot out from the Batmobile toward Superman, damaging him. These environments add a layer of unpredictability to every match.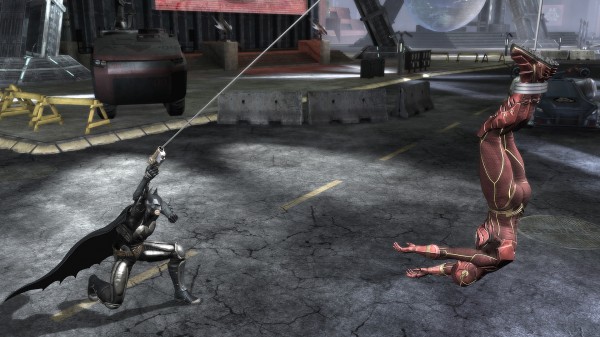 The second fight demo presented to us saw Batman go up against Solomon Grundy. This fight highlighted the two different types of characters Injustice will be featuring: the more direct, smash-mouth approach of Grundy versus the gadgetry and cunning of Batman. The stage for this battle, Future City, also featured some interactivity, but in a more unique way.
Batman approaches a cab parked in the background and smashes Grundy's head into it numerous times, causing more damage to the car with every attack. Eventually, Grundy turns the tables by picking up the entire cab and smashing Batman with it. That served as the turning point for the entire match, as Grundy then launched Batman through building, ceilings, and floors to show off Future City's three different arenas. Each transition was filled with moments that drew oohs and ahs from the crowd, particularly when Grundy sent Batman through a wall and back to where the match started.
Even announced only a week prior, Injustice: Gods Among Us shot quickly up the list of Best Games of E3 with its strong floor showing. Some gamers may consider it an apology for Mortal Kombat vs. DC Universe, and others may consider it a long overdue quality fighting game for the DC Comics universe. I call it one of the best fighting games at E3 2012, and a game that now holds a firm place on my radar. Look for more Injustice: Gods Among Us at this year's San Diego Comic-Con, leading up to its targeted holiday 2012 to early 2013 release.