Just a few days prior to this year's PAX East convention in Boston, Warner Bros Interactive Entertainment stopped by the Big Apple to show off some of Suda 51 and Grasshopper Manufacture's latest dose of crazy-sauce, Lollipop Chainsaw.
Lollipop Chainsaw is a hack-n-slash-n-shoot game that is, mechanically, a cross between the team's Shadows of the Damned and No More Heroes games. Rather than diving into a special brand of Hell to save an illiterate demon hunter's girlfriend, or fighting to the top of the worldwide ranks of assassins, this time around players will take control of cheerleader Juliet Starling in an outright war against the hordes of zombies who have invaded San Romero High School and surrounding area.
WBIE representatives have said that for Lollipop Chainsaw, the publisher has "given them lots of freedom" and "gotten out of their way," referring to Suda 51 and the game's writer, James Gunn. Fans may recognize the lattter name from movies like Slither and the 2004 remake of George Romero's Dawn of the Dead. From what we saw in New York and Boston, that freedom promises to have positive effects, as the team members' styles seem to compliment each other well.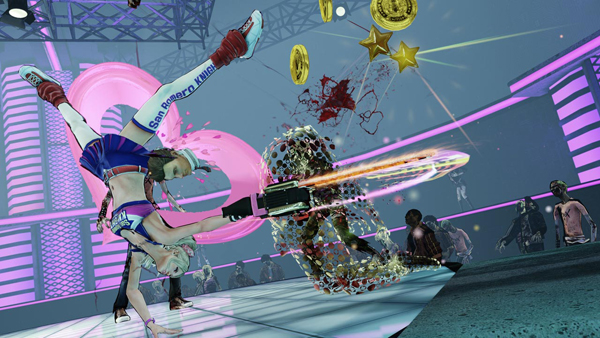 From the outset, Lollipop Chainsaw presents a lighthearted comic-book interface overlaying the game's 80s-inspired settings and aesthetics. Play is dominated by quick and acrobatic hand-to-hand combat, chainsaw decapitations (up to seven in one slice!), and a generous helping of shotgun blasts, but as one can expect from a Suda 51 game titled "Lollipop Chainsaw" that stars a teenie-bopper cheerleader, the game's most violent moments are drowned in explosions of hearts, stars, rainbows, sparkles, and glitter. Building enough "star power" through combat even puts Juliet in a Mario-esque, super-powered state during which she glows all colors of the rainbow while Toni Basil's 1982 pop song "Mickey" plays in the background.
More 80s tunes add to the soundtrack, as well, which is otherwise composed by Akira Yamaoka of Silent Hill fame, with boss-battle themes provided by Jimmy Urine from Mindless Self Indulgence.
Juliet's boyfriend Nick, voiced by Smallville's Michael Rosenbaum, also got a lot of face time in the demo we saw. Nick is a living, severed head who helps Juliet get from area to area by joining with the decapitated bodies of zombie mini-bosses, each of which has its own way of opening the path forward. He also offers himself up as part of the "Nick Popper" gun Juliet uses to dispatch enemies, and perhaps most notably, acts as a comedic sidekick, constantly bantering with Juliet about the situation at hand. In the demo alone, the dialogue between these two earned more than a few laughs from the room, which makes sense, as Juliet is voiced by GamerNode's runner-up for best female performance of 2011: Tara Strong, Batman: Arkham City's Harley Quinn.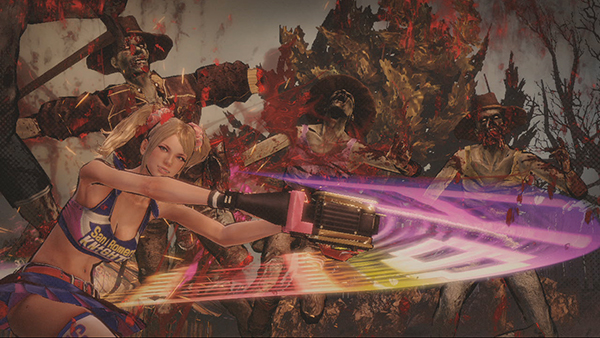 Aside from the basic design of progressing through levels while beating, cutting, and shooting the undead, Lollipop Chainsaw aims to add variety to play via alternate sequences such as using farm equipment to mow down fields of baddies, execution maneuvers that involve on-screen button prompts to finish enemies, the aforementioned star-power moments, and the ability to upgrade Juliet's abilities using a collection of very odd items from stores scattered throughout San Romero. Every level can be played and replayed for score, time, or simply to finish, with performance rankings following each completion.
The final segment of the demo we saw was a crazy boss battle with a hippie bus driver, the "Psychadelic Zombie," voiced by Shawnee Smith. The fight took place on the roofs of a ring of fused buses, with a crop machine, then a giant hand, chasing Juliet around the makeshift arena. The harp-guitar-playing hippie zombie floated in a bubble while shooting energy balls and bolts at Juliet, then multiplied into two, four, eight, and more copies of herself. The whole fight took place in a suspended reality with a tie-dyed, kaleidoscopic background that heavily featured butterflies and eyeballs. Warner Bros IE noted that advanced difficulty levels will add more elements to fights, rather than simply increasing or decreasing damage and/or health.
Lollipop Chainsaw is certainly shaping up to meet players' expectations for a Suda 51 game – it looks absolutely bonkers. WBIE tells us that the game is "almost done," and that we can expect it to arrive on store shelves for the PlayStation 3 and Xbox 360 on June 12.