It's another year, another installment of crushing hits, huge passes, and defense-shredding runs with the latest in the Madden franchise, Madden NFL 11. The annual football installment from EA has made a few new changes to the franchise. Is the new Gameflow feature and revamped locomotion system enough of a reason for players to give this latest Madden a shot? Or does the game fumble the ball and ruin the series' positive track record? After some serious time with the game, football fans will be happy to know that with smarter AI play-calling, faster game times, a more authentic soundtrack, and all the goodness brought over from Madden NFL 10, Madden 11 a solid touchdown.
The newest and boldest feature to come with Madden 11 is Gameflow. Gameflow allows players to simply press the X button in the huddle to have their defensive and offensive coordinator AIs call a play that is best suited for their given situation. The coordinators will also break down the play to you by speaking through either the TV speakers or secretly in your headset as you set up on the line of scrimmage. This hastens play time and allows players more time to enjoy the action of the game itself by eliminating the tedious hassle of flipping through an entire playbook. Anyone who wants to keep their own play-calling strategy, however, can either draw up their own Gameflow gameplans or just choose to flip through the playbook instead.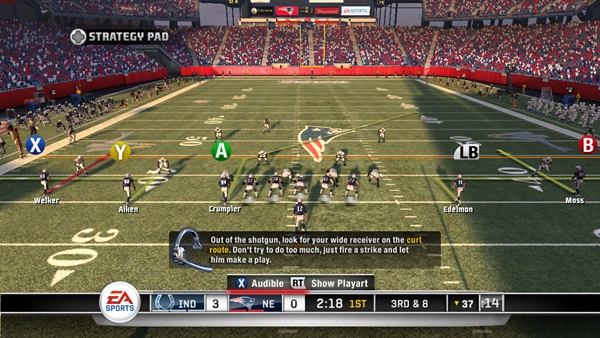 The AI system of Gameflow is also much more intelligent than the series' previous Ask Madden feature. The coaches will actually have you throw for a pass to the end zone or sidelines when down late in the game instead of suggest you run it to get the first down with 8 yards to go. Overall, Gameflow is a revolutionary new feature for the Madden franchise that should easily be a series regular for a long time to come.
Another new addition to the franchise is the revamped locomotion system. This system works very much like the Fight for Every Yard system in Madden 10. Locomotion will take into account each player's height, weight, momentum, and more whenever they collide with one another. Whoever has the advantage after this and the considerations of where the tackle is coming from and what maneuvers the ball-carrier attempts to avoid it will win out. This will pile up when it comes to gang tackles, which make a welcome return to the series. Many people may not notice the difference between the two systems, but locomotion still retains that great sensation that comes from dragging players for extra yards or shoving a running back flat on his back for trying to muscle you out of the way.
The game's audio has also seen a revamp, this time in favor of more traditional sport and stadium songs. This time around, arenas will be flooded with the sounds of "Welcome to the Jungle," "Crazy Train," "Bang the Drum," "Thunderstruck," "Rock 'N' Roll Part 2," and other classic stadium tunes. Some teams will also have their stadium loudspeakers blare out their official fight songs. In addition to all of this, Madden 11 features signature chants from the crowd like the New York Jets fans', "J-E-T-S! JETS! JETS! JETS!" All of it adds up to what is the most authentic audio package ever put together in a Madden game to date.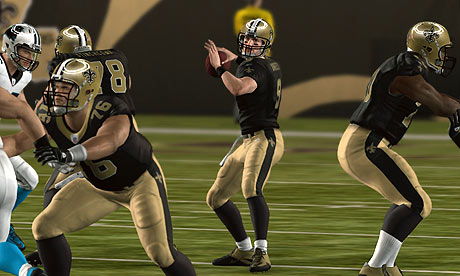 Multiplayer in Madden 11 introduces the new 3-on-3 co-op mode, where three players on each side of the ball take control of three key positions on each team in order to work together for a win. If you've enjoyed playing a wide receiver, quarterback, or running back in the NFL Superstar mode, then you'll enjoy this new addition that allows you to play those roles with your friends. The game's head-to-head online matches are fun and will reward you with a victory if you're opponent quits the game because you're beating them too badly, which will happen quite often. Online Franchise is back, but unless you have a group of friends to play a league with you may be waiting quite a while to play a game, as it is a tad difficult to get online at the same time as your opponents. In summary, the multiplayer is mostly more of the same, but the same was mostly fun anyway.
The game once again sees the return of heavy ad placement, but this time around it's more amusing than annoying as it never gets old hearing Gus Johnson announce the Old Spice Red Zone Breakdown by shouting, "Smell like a man… MAN!"
If you're looking for an improved Madden experience from the previous year, EA Sports has given you just enough of it to persuade you to shell out that annual $60. The Gameflow feature makes games easier, quicker, and more fun with emphasis on the actual action of the game itself. The locomotion system keeps the fun running and tackling system from Madden 10 that made that installment so engaging. Add to those the same enjoyable multiplayer and a quality soundtrack that oozes with football authenticity, and you've got yourself another great edition in the Madden franchise with Madden 11.