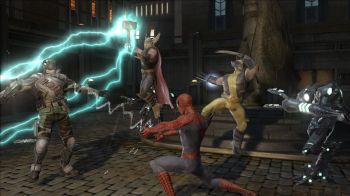 The Marvel Universe is being torn apart. Civil War has erupted amongst the superheroes and public sentiment has turned against them. The US government wants all superheroes to register their secret identities and become licensed agents, and players must decide which side to follow — the Pro-Registration Side lead by Iron Man, or the Anti-Registration side lead by Captain America.
And thus is the synopsis to Vicarious Vision's sequel to the 2006 action-RPG, which is shaping up quite well. As mentioned earlier, the game's plot revolves around the Civil War comic book storyline and gives fans the choice to select from over 24 playable heroes and villains, including Deadpool, Venom, Juggernaut, and other classic characters like Spiderman, the Fantastic Four, Wolverine, Hulk and Daredevil.
You can play in a team of four by yourself, or with up to three friends in online or offline co-op modes. Each superhero uses their specialized powers from the Marvel Universe and can combine their powers with other superheroes for devastating effects. These combinations are called Fusions, and there are over 250 unique Fusions within Marvel Ultimate Alliance 2.
An example of one of these Fusions is when Human Torch combines with Thor for a lightning tornado fused with flames. Players can then tap a button to make the tornado bigger and stronger, and move the joystick around to steer it, maximizing its destructiveness.
The game's environments will also be somewhat destructible and interactive. Players can use the superheroes' powers to grab pieces of the environment around them, such as cars, lampposts and machinery as weapons to fight opponents. Boosts and powerups scatter the area too, making the fights even more destructive and fun. Players will earn experience points for their actions as well, and will be able to upgrade their skills as the game progresses.
Fans of the house that Stan Lee built can look forward to MUA 2 arriving in September 2009.