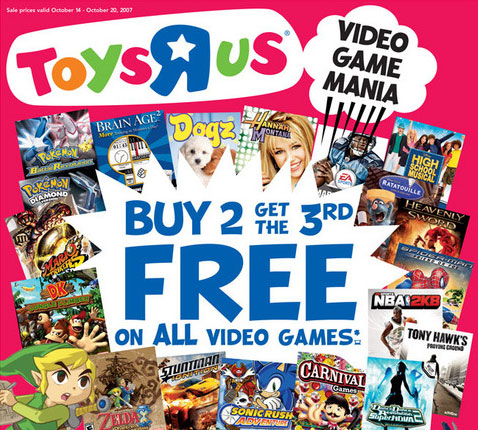 The only thing bigger than this week's new releases are the game deals awaiting you and your wallet.
With Brutal Legend and Uncharted 2: Among Thieves arriving in stores Tuesday, it should come as even better news that if you buy two of anything game related at Toys R Us, you'll get the third item free.
Yep, games, consoles, accessories up to $100, and handhelds are all fair game. That's a pretty intense deal. It's unclear from the ad if mixing and matching games, accessories, etc. will stil fall under the deal's criteria, so plan out your purchasing strategy and contact your local Toys R Us to confirm your purchases will count in the three-for-two deal.
But that's not al for this week's game deals. At the end of September, gaming news site Joystiq reported that more than 200 Game Crazy locations would be closing and liquidating their stock of games.
The full and updated list of closing Game Crazy locations can be found here. This week, the remaining used videogames (sorry, no new games) in stock will be 50% off.
While it will definitely be another fall season for gamers to go broke with all the blockbuster releases, at least some retailers are offering a bit of relief.