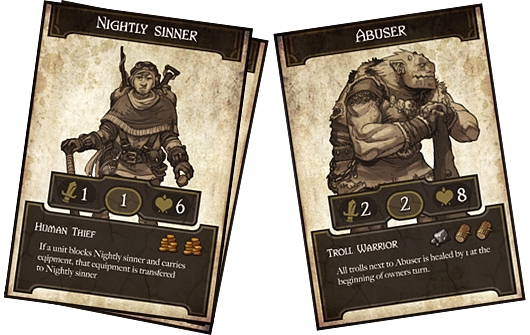 Previous lone-man developer of the Indie game Minecraft and founder of Mojang, Markus 'Notch' Persson, has teamed up with Jakob Porser for the company's next game: Scrolls.
The game is described as offering, "… new and unique game play where you fight to outmanuever your opponent on the battlefield using the destructive powers in your collection of scrolls." It also mentions that your goal is to become the, "mightiest magician of all time."
For those who wonder why Scrolls, Porser has provided an answer:
"Five years, Me and Markus 'Notch' Persson started talking about a game we felt was missing in the gaming market. A game we desperatly wanted to play, but was unable to as it had not yet been developed. The game we envisioned had elements from the collectable card game genre as well as from the traitional board games."
He goes on to say that over the past five years, the elements of Scrolls' game play had grown, and they finally realized that they simply stopped planning and started creating.
Minecraft offers little in the way of narrative or direction, preferring to let gamers find their own way in its world through seemingly endless exploration and creation. But the tone of Scrolls seems much more structured, at least in comparrison. And you have to wonder if it, regarldess of quality, will posses the same level of charm and freedom that allowed Minecraft to ensnare so many gamers.
Regardless, one thing can be sure: plenty of gamers will be clamoring for more news on Scrolls.