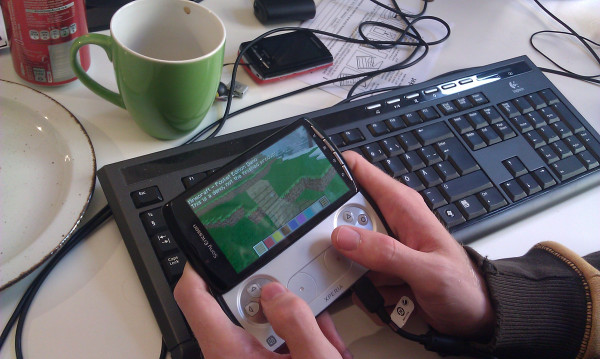 Minecraft, the indie success story, has now been shown in action on the Sony Xperia Play phone.
The story surfaced via an image posted on Notch's Twitter and then was fully revealed on the Mojang blog. Minecraft's first offical trailer shows the game running smoothly on the Xperia Play; the phone's touch sensitive pads and face buttons providing what appears to be an intuitive gaming experience. Although there is no further information on other Android or iOS versions, Notch and Mojang are expected to reveal more at E3.
For the few who may still be unaware, Minecraft a sandbox game which lets you mine for precious resources and build with unexpected levels of scale and creativity by yourself or with friends. A mobile version could potentially remove gamers from the confines of their homes, and depending on its connectivity, enable more creative collaborations on the fly.
Could the Midas touch of Minecraft help improve the slow sales of Xperia-specific software? Sony insists that in spite of its sales the Xperia Play is a long-term investment for the company, but without key titles to help drive sales, its future is uncertain.
[flash width="540" height="337"]http:/www.youtube.com/v/jO-y5wzmK4E?fs=1&hl=en_GB[/flash]