It's no secret that Sony's MLB: The Show franchise has been the king of the diamond for years, and with MLB 10: The Show, Sony aims to hit yet another home run. As expected, they've done it again, but still have room for innovation and improvement in future entries.
Right off the bat (Give me a break; I'm overwhelmed by baseball right now), anyone can see that The Show is all about the presentation. This game oozes Major League Baseball, with real video footage and commentary from the 2009 season opening the game and reminding us exactly why we should be excited for what we're about to experience. It also features the best and most detailed visuals, from classic and modern ballparks, to 3D-modeled crowds, to stars of The Show, the players themselves. Particularly impressive are the player animations, which capture little idiosynchrasies, stances, swings, and deliveries, as well as the more common on-field behaviors, such as off-balance throws, dives, and the many ways players complain about called third strikes. Facial details are also excellent, nearing photorealism for most players and adding an unmatched level of familiarity to the game.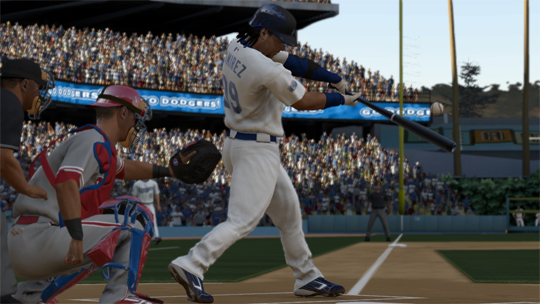 Ballpark sounds are also at their finest; the crowd explodes into cheers for the home team and barrages the visitors with boos and catcalls at every turn, while the stadium organ, crack of the bat, and snap of the leather all settle the player into a decidedly "baseball" soundscape. It's too bad the commentators can't match the rest of the audio, and come across as uninterested and occasionally annoying, especially after extended play reveals their play-by-play to be more repetitive than it should be.
One other area that could use a bit of refreshment for next year is the mostly unaltered pitching and batting system. The cursor- and meter-based interfaces feel tired and dated in comparison to the rest of this highly refined and polished game, and hearken back to the 32- and 64-bit era. Sony has done a lot to make hitting, in particular, more interesting, with pitch type and location predictions, directional hit influence, swing feedback, and a number of charts to make each plate appearance a strategic event, but the core dynamics of actually hitting — moving the left analog stick and pressing X for contact or square for power — is how we've been playing baseball videogames for ages, and can feel bland when compared to other batting systems. Pitching is essentially a matter of tapping the X button at the right times as the cursor moves up and down the arced meter, and can dissolve the strong MLB atmosphere the game works to create. In short, both pitching and batting are very gamey in the game's default configuration, and attempting to remedy that by using the no-GUI Rookie settings makes both way too boring to consider.
Every other aspect of the game, however, is absolutely top-notch. This is truly a comprehensive baseball experience, featuring much beyond the standard exhibition, home run derby, season, and franchise modes. Rivalry mode lets players battle in multiple contests between the same two squads, and Manager mode is great for anyone who's wanted to sit in the dugout and tell players what to do, then watch how his instructions serve the men on the field.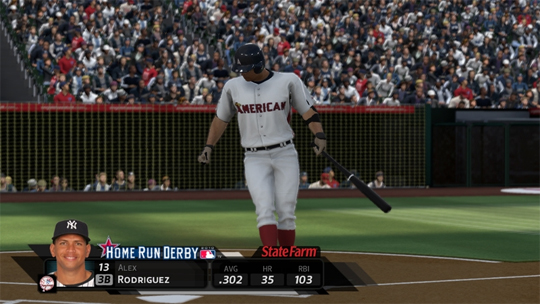 The pioneering Road to the Show (RTTS) mode makes a return in MLB 10, allowing players to create an individual player and follow his career from a minor-league pine-rider up into Major League stardom, one pitch, plate appearance, and fielding opportunity at a time. This year adds the ability to call entire games as a catcher, relying on the pitcher to deliver the goods as requested. Being a catcher is an extra strategic experience, because on top of bunts and throw-downs, players have to constantly consider the pitcher's arsenal, stats, and condition, as well as the strengths and weaknesses of every single batter who faces the battery. RTTS is still the best baseball role-playing experience in gaming, and really takes the small things into account, liberally doling out attribute bonuses and demerits for in-game performance and the many well-integrated training sessions between games. Advancement goals are updated periodically, based on player success or failure, and manager interactions and post-game notes plant players firmly in their prospects' shoes from start to finish.
When it comes to season and franchise modes, again, nothing is more robust and full-featured than MLB 10: The Show. The game makes it easy to track league leaders, team rankings, player trends, league standings, and tons of statistics, as well as current awards and All-Star voting numbers. The Show even lists all-time MLB records and Hall of Fame members, presumably just as a way of saying, "Yes, I'm awesome." This is all alongside manual or automated roster moves, injury management, trades, contract negotiation, etc. Franchise mode specifically adds training regimens, club staff and facilities management, scouting, banking, marketing, and franchise contract goals, which are similar to the individual career goals in RTTS, to be achieved over the course of multiple seasons. These act as extra incentive for already-inundated MLB 10 players, and serve to keep players interested and involved over time. And if playing alone isn't enough, up to 30 players can join in a single season, and full seasons can now be taken online, with each player controlling his or her own team.
MLB 10 is the best baseball spectacle you're going to find in a videogame, thanks to the high production values, attention to detail, and incredible number of features and options stuffed into this shiny package. The basic pitching and batting interfaces are beginning to show their age, though, and even after updates, they might be ready for a substitution. If that happens, 2011 will see the perfect baseball videogame; 2010 has to settle for just being the best.