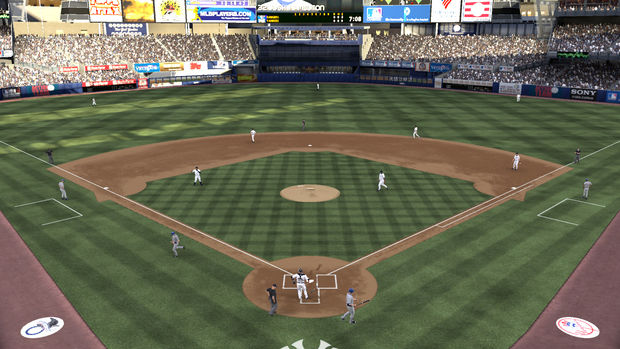 The calendar may tell you the official start of spring is March 20, but in reality, it comes nearly a full month earlier with the first game of Major League Baseball's Spring Training punctuating the end of winter and the beginning of life anew. Baseball fanatics everywhere rustle out of their collective slumber, rejuvenated with the hope their favorite ball club will win the World Series this season. For some, this is a hope more closely rooted in fantasy than any kind of real-world potential. Nevertheless, all baseball fans want their teams to succeed and there's one sure-fire way to see that through — a baseball video game.
Sony's in-house gaming division, SCE San Diego Studio, is back once again as the (virtually) uncontested king of the hill, with the newest installment in their critically acclaimed MLB: The Show series. MLB 11: The Show is, unsurprisingly, a great game. Always building upon what made previous incarnations so successful, while also correcting flaws, SCE San Diego has delivered another great game that will appeal not only to the most die-hard of hardcore baseball fans, but also to the gamer with a passing interest in America's pastime.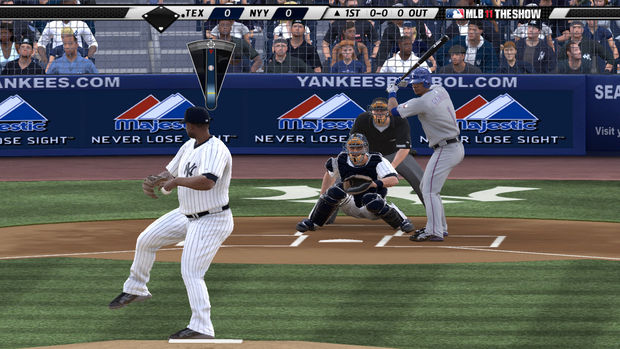 Following in the footsteps of 2K Sports' MLB 2K series, MLB 11: The Show welcomes, for the first time, the inclusion of an all-analog control scheme. Branded, "Pure Analog Control System," The Show is now sporting a control scheme free of buttons. This newly added control scheme is obviously intended for the most intense of baseball gaming fans. The analog controls add a new level of difficulty on every level of the game. I found the most difficult aspect of the Pure Analog Control System to be the analog hitting. You have to do everything just right, and even then, you won't always get a hit. It gives you an idea of just how difficult it must really be to get a hit as a professional baseball player. Additionally, per usual, all previous control schemes are still available in the case you find yourself not taking to any of the new adjustments. Whether you want the traditional, press-of-the-button batting, where you just time the ball, but still want analog fielding, while maintaining meter pitching, you can do it. Any combination of control schemes can be created and utilized, as customization still reigns supreme in The Show.
If course, as we have typically come to expect, the visuals have also seen an upgrade in this year's game, and that's not just pertaining to player models receiving an overhaul. When I use the term "visuals" in the case of The Show, I'm also referring to the improvements in lighting, player mannerisms, batting stances, ball physics, camera placement, etc. Year after year, SCE San Diego takes longer and longer strides toward realism in their game. In fact, one afternoon, I let the game go into its "CPU vs. CPU" mode, where the game takes on more of a spectator perspective, as if you were watching a broadcast game on television. My dad passed through the room and asked me, "Who's playing today?" Although we're years away from photorealism, the level of detail in MLB 11: The Show is still extremely impressive.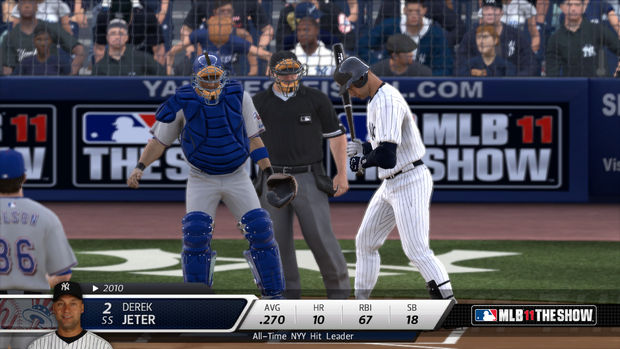 Game modes from previous years remain intact in MLB 11: The Show. Franchise staple, "Road to The Show," (RTTS) has received touch-ups, giving the player more logical rewards/punishments for actions taken. No longer will you receive negative feedback for hitting into a sacrifice fly when you were instructed to get on base/drive the runner in. New to this year's game is the Co-Op Mode, which allows up to four players, online or offline, to play against one another in pairs.
The one most noticeable aspect of MLB 11: The Show that continues to grow stale is the commentary. Rex Hudler is absent from this year's game, making way for ex-player, now broadcaster, Eric Karros as the color commentator, alongside Matt Vasgersian and Dave Campbell. Karros has basically just covered Hudler's script, word-for-word, while adding his own emphasis and inflections. At times, specifically when I first started playing the game, it sounded as if Karros did his voice work inside a trashcan. As time's gone on, I've become more accustomed to, and thus, more in favor of Karros' commentary. The real problem is that SCE San Diego really needs to give the commentary a complete overhaul in the first place. The loss of Hudler and addition of Karros only works as a stop-gap, working to temporarily "fix" the problem. The same comments and insight have been recycled for a number of years now, so it'd be refreshing to hear something new sometime in the future. Preferably sooner than later.
If you're a die-hard baseball fan looking for the best gaming has to offer, then look no further than MLB 11: The Show. If you're not the biggest of baseball fans, but have an interest in the game, your money would be well-spent. There's always a group claiming that each year's entry is nothing but a roster update, but at least this year, they'd be wrong. While it's awfully difficult to make drastic improvements upon a game that's already great, SCE San Diego finds a way to make it worth the $60 purchase.