It's an especially hot and humid June afternoon in the Bronx, but nothing this Braves team can't handle down in "Hotlanta." In fact, it's tepid by comparison. It's the last of a three-game series with the Yankees, tied at one game apiece, the rubber match – the game to decide the series before we leave for Boston to wrap up interleague play for the season. I come into the game in the bottom of the ninth with a clean slate and a 3-2 lead to face the back end of the Yankees' lineup. Jonny (Venters) takes care of Granderson, Cano, and Teixeira with relative ease, which is a hell of a lot easier said than done. I begin the inning well enough, sitting down the first two batters I face by way of a strikeout and a pop out. But I stumble a little with the next two batters. One gets on because of a throwing error and the other on a ground ball up the right side of the infield, past a diving Freddie (Freeman).
With runners at first and second, Brett Gardner makes his way to the plate. He's not the type of hitter I'd usually worry about in this situation. Sure, he can get on base, but he's probably not gonna crush you for a three-run homer. Even in a righty-lefty matchup like this one, I'm not really worried. The homeplate ump blows a couple of calls and the count goes to 3-1. I decide I can either challenge the batter with a heater up and in, and maybe he'd swing through, or I'll have to lay one in there and risk him barreling it through the gap for extra bases. With the tying and go-ahead runs on base, I'm not willing chance it. Most batters would be looking for a fastball in a 3-1 count. Gardner has quick wrists, but my arm's even quicker. So I look into Mac (Brian McCann) for the sign. We agree on the four-seamer. I nod and deliver the pitch. Gardner flinches, but resists temptation. Ball four.
With the bases loaded on a walk, I hear that famous recording of long-time Yankee announcer, Bob Shepard, declaring, "Now batting, number two, Derek. Jetuh." The crowd erupts. As Jeter comes to the plate, the sound of the crowd intensifies – not only in volume, but in force. I don't really notice it as I face the other batters, but it's different with Jeter. He's king in this town. And as he digs in at the plate, he seems to acknowledge the chant coming from all around, slightly tipping the bill of his helmet to the unified shouts of, "JE-TER! JE-TER!" It sounds more like a promise of things to come than a call of faith. "JE-TER! JE-TER!" It's as if a wave of thunder had surrounded me. It feels like it's in me.
I scan the infield, surveying the situation. Andruw Jones is standing at third, Russell Martin stands at second, and Gardner at first. I take note of the positioning of my infield behind me. Suddenly, the gravity of the situation falls over me. My breathing grows heavy and I can feel my hands begin to shake. My palms are sweating. I have to wipe them off on my pants, or else I'll lose my grip on the ball. I lean forward, my right arm hanging down. I look to Mac for the sign. He wants a changeup, but I shake him off. He signs for a slider, but again, I shake him off. He knows what I want. So he finally signs for a fastball. I nod and stand into the stretch.
From where I stand on the mound, I can see Chipper. He's looking me right in the eyes and gives me a single, slow nod of confidence. The chanting continues, "JE-TER! JE-TER!" Meanwhile, Jeter looks calm and unfazed by the situation. So again, I turn my head to look to Mac. I deliver the fastball right down the middle. Jeter takes it all the way. Of course, at the ump's signal of a called strike, a barrage of "boo's" rain down from the stands. I mean, if he doesn't swing, it's not a strike, right?
But again, the crowd's chant quickly ramps up. "JE-TER! JE-TER!" Mac throws the ball back to the mound as I take a deep breath. With the count 0-1, I lean forward once again, taking the sign from Mac. He signs for a two-seamer, down and in. I nod and again stand into the stretch. This time, without as much hesitation, I shoot the two-seam fastball into the low inside corner… but it's just off the black. Jeter stands his ground, almost like a statue, as the ump makes no reaction. Ball one. The crowd cheers loudly. With the count even at 1-1, Mac and I settle on another fastball, this time up and away. I release too late and it almost gets away from me, sailing wide left into the other batter's box. Luckily, Mac is quick enough to snag it down, or else I'd be trouble. Jones jitters just a bit down the line in anticipation of a passed ball, but quickly scuttles back to third. Again, no call from the ump, as Jeter still hasn't swung. The count is 2-1. The crowd roars.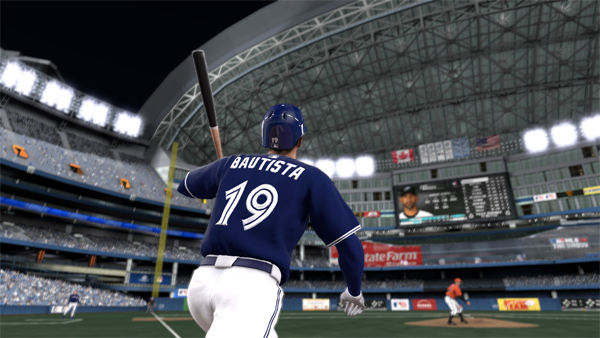 Mac calls for time and jogs out to the mound to give me a quick word of encouragement to calm me down. It's still so loud, as the Jeter chants are mounting, that I can hardly hear him saying, "You've got this, kid. C'mon, Craig." He gives me a supportive pat on the back and I watch him jog back behind the plate. With my glove tucked under my right arm, I take off my cap and wipe the sweat from my brow with my left forearm. I step back on the mound and toe the rubber. Back into my lean – my right arm hangs down. I look into Mac. He's calling for a slider, down and away. I step into the stretch and adjust my grip on the ball. The delivery – Jeter swings late and the ball flies foul into the stands along the first base line. I exhale.
With the count at 2-2, I have a plan to get this guy out. Mac cycles through the pitches as I continue to shake him off. Finally, he gives in and signs for a changeup. I decide to go down and away with this one, hopefully fooling Jeter into thinking it's a fastball. The delivery – no swing. It was just low. And, right on cue, the crowd voices their approval. With the count at 3-2, I have no choice but to throw a strike. The next pitch won't surprise anyone, especially Jeter. He has to know what's coming. In a situation like this, you're forced into relying upon your best pitch – your best move. And for me, that's my fastball.
With the bases loaded, two outs and a full count in the bottom of the 9th, the runners will be going at my first movement. I have to ask myself what I'm more afraid of: failure or embarrassment? I make up my mind that I'm not going to walk in a run. I may only be 23, but my team has enough confidence in me to trust me with the game on the line. If a run scores, it's going to be because Jeter beats me on my best pitch, not because I'm too scared to challenge him. So, for the last time, I lean forward, my right arm hanging down, and I look to Mac. There's no confusion about the next pitch. I know it. Mac knows it. Jeter knows it. And I'm pretty sure the crowd knows it.
Mac calls for a fastball, letter-high on the inside part of the plate. I nod in confirmation. As I move into the stretch, I once again look over at Chipper. But he isn't watching me. Instead, he's ready and in position, looking into home. I take one last breath, as deep and long as I can. The Jeter chant is just as loud as ever, but it seems to fall into the background of thought. "JE-TER! JE-TER!" It's more of an ambient noise at this point. In fact, dead silence would be disruptive. I lock on to Mac's mitt, and with every last bit of strength, I sling a fastball right into Jeter's wheelhouse.
Whiff.
 * * * * * * * * * * * * * * * * * * * * * * * * * * * * * *
"People ask me what I do in winter when there's no baseball. I'll tell you what I do. I stare out the window and wait for spring."
These are the famous words of Hall of Fame second baseman, Rogers Hornsby. For people like myself, who live and breathe with every pitch of the season, The Show fills the void that's made up of the meaningless hours of life when there's not a real baseball game on television. Often touted as the only sports game to legitimately claim the title, "system seller," Sony's MLB: The Show series is regarded by most as the premiere franchise in baseball videogames, and while San Diego Studio (a Sony first-party development team) always puts out a quality product, this year's entry, MLB 12: The Show, is on the cusp of glory.
MLB 12: The Show allows fans to live out their dreams, even when their team inevitably fails to do so. And to say it's a realistic video game would be an understatement and a disservice.
Die-hard baseball fans will notice the multitudes of improvements immediately. That's because these fans, more than any other fanbase, are obsessed with the subtle nuances and minute details of the game. Baseball fans crave those intricacies, and SD Studio knows this. Its audience is a demanding one, but MLB 12: The Show's development team has more than obliged.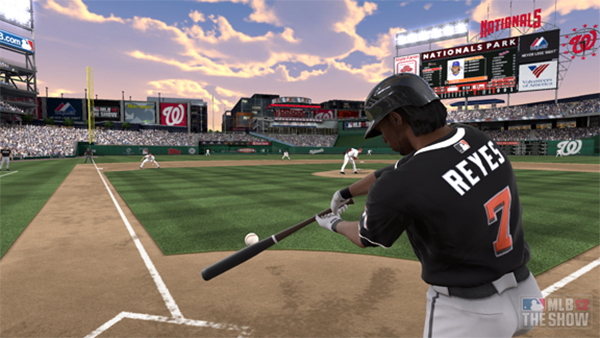 Lighting, physics, animation, AI, and the sound of the game all feel authentic. Good luck seeing the ball out of Ubaldo Jimenez's hand when playing against the Indians at Progressive Field, and know that fielders' defensive range and ability truly matters, thanks to the way the ball skips off the grass, dirt, and turf. Even players' hot and cold streaks throughout the course of a season seem more lifelike and legitimate than in other baseball games.
Chipper Jones' unmistakable stance, like those of so many other players, is perfectly paralleled in MLB 12. So many times I've watched him ease up on a swing, letting go with his back hand, rather than follow through at full power, so as to poke the ball into the opposite field for an easy base hit. But then he'll come right back and pull one over the wall, with an effortless and natural swing. It's all there in MLB 12.
As is the satisfying pop of a fastball hitting the catcher's mitt's leather, and the crack of the bat – what dreams are made of. Commentary is also there, but is, by and large, the same stuff that's been said year after year. It'd be nice if they'd talk about things within the larger context of the game or series, like commentators do during live broadcasts. Even a mention of the hot dogs they ate before the game, or something quirky a fan is doing, would be a refreshing listen. Maybe next year?
Baseball is a game of styles, batting styles and pitching styles being two of the most notable. MLB 12 doesn't remove options, and allows players to personalize its controls just like they might fine-tune their delivery on the mound.  If the new pulse pitching (which can be downright devastating to your opponent, once mastered) isn't appealing, meter pitching, button pitching, or last year's gesture pitching all remain as options. The same is true of batting, which includes a new and unforgiving time-and-guess interface, Move control, and the familiar button and gesture swings.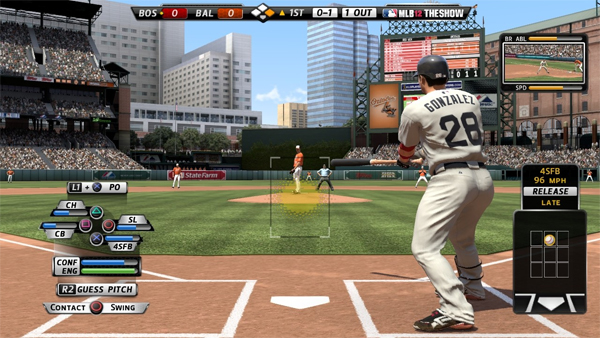 The only real gripe I have with the game (besides the fact Dan Uggla's forearms and biceps are nowhere near as massive as they should be) is the lack of improvements made to online play. It's not what I get the game for, but it's fun to occasionally challenge other people. Unfortunately, it's just as laggy and unresponsive as ever. Baseball is a game where milliseconds are everything, which means any delay in reaction can change the outcome entirely.
And so every year, as the days grow longer and people awaken from their winter hibernation, the age-old ritual of spring training marks the official start of a new year for baseball fans and players alike. But for most teams, the season never quite plays out the way it's supposed to. Sometimes it's a delightful surprise, but more often than not, it's just plain heartbreaking. Bart Giamatti, former National League President and Commissioner of Major League Baseball, once wrote of the game, "It breaks your heart. It is designed to break your heart. The game begins in the spring, when everything else begins again, and it blossoms in the summer, filling the afternoons and evenings, and then as soon as the chill rains come, it stops and leaves you to face the fall alone."
But The Show won't break your heart. It's there for you, only getting better with age.