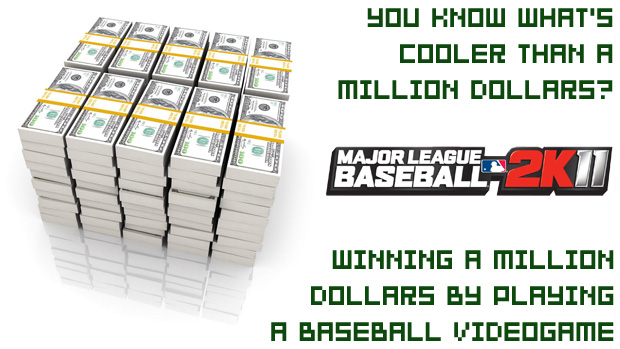 Last year, 23-year-old Wade McGillberry won a million dollars through MLB 2K10's perfect game promotion. This year, another lucky player of 2K Sport's latest baseball game, MLB 2K11, will get the same cash prize.
There are a few tweaks this time around with the promotion. For starters, the start date has been pushed back from release day, March 8, to April 1.
This will prevent anyone from winning by using spring training rosters or stadiums, like Mr. McGillberry had done last year. This will force players to attempt the challenge with Opening Day rosters and actual MLB stadiums, but also give them a chance to practice their pitching craft in the game.
"We wanted to give the competition a more true-to-life experience," says Chris Snyder, 2K Sports' director of marketing. "This year, we wanted the competition to coincide more with opening day, so now fans who buy the game on launch day will have almost a full month to practice before they go for the million dollars.
"You won't be winning in a spring training stadium this year."
The age limit is also being dropped from 18 to 13. The reason why has to do with MLB 2K11 cover athlete Roy Halladay.
Snyder explains:
"Last year, Halladay's son, who is about 13-years-old, was telling us about how he was going for the perfect game and had it through seven innings. We were listening to him, but at the same time we were cringing a bit because the rules last year stated that you had to be 18-years-old to win the million dollars. So this year, we opened it up even further and dropped the age limit to 13. We took this directly from Roy's kid and wanted more people to have the chance to go for the perfect game this year."
All other requirements remain the same as last year. This includes having to record yourself with video playing the game.
MLB 2K11 will be available for the Xbox 360, PlayStation 3, Nintendo Wii, PC, Nintendo DS, and PSP.
[ESPN]