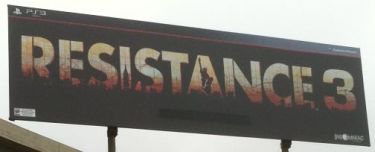 Over on NeoGAF, user "goldsoundz" took the picture you see above, a billboard for what seems to be Resistance 3 by Insomniac Games. According to the user, this was taken on the set of Battle: Los Angeles, a sci-fi action movie starring Aaron Eckhart of The Dark Knight and Thank You For Smoking fame. The movie is currently filming in Shreveport, Louisiana, where the user snapped the pic.
Of course, the reality of the picture is in question, but a franchise like Resistance was bound to get a third installment anyhow, and with Ratchet and Clank's newest venture due out in two weeks, perhaps there will some nugget of info tucked in there to confirm what we see above.
Two questions first: first, the Statue of Liberty in the A of Resistance foreshadows a trip to New York City, eh?
Secondly, why is a movie called Battle: Los Angeles filming in Shreveport?! Yeesh…*/sarcasm*
More on this as it develops.