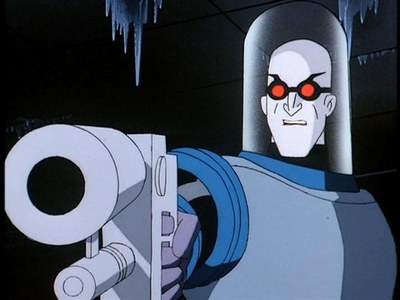 It is well known that both The Joker and Harley Quinn were able to escape their fates at the end of Batman: Arkham Asylum thanks to the sequel's teaser trailer that aired during the Spike VGAs. It now appears that the clown duo will be joined by two more of the dark knight's foes, as Mr. Freeze, Two-Face, and Talia al Ghul are reported to be confirmed for Arkham Asylum 2.
According to an article by GamingTarget, the news on Mr. Freeze was broken by actor Maurice LaMarche. LaMarche, who is most well known for his role as Brain in "Pinky and the Brain", announced in an interview with the Geekcast Radio Network that he will be voicing the character in Arkham Asylum 2.
"Video games is hard work, I'll say that," he stated in the interview. "I've only done a handful, and I'm very lucky right now, I'm about to go in and do Mr. Freeze for Arkham Asylum 2."
LaMarche then went on to discuss the character's motivations in the game, which appear to match up with Freeze's traditional origin.
"He's out for blood right now because, err… I can't tell you the situation, but he's actually somewhat a sympathetic character within the framework of the game," said LaMarche.
According to Comic Book Resources, Kevin Conroy, the voice of Batman, accidentally let slip at the Chicago Comics and Entertainment Expo that Two-Face will be making an appearance. Tricked by a fan into confirming the villain, Conroy then laughed and recollected himself.
"There's a very complicated cast," he stated. "A lot of villains are in it. I'll just leave it at that!"
Conroy then went on to say that the sequel will be a dark game and go to a very dark place.
"It's really, really dark," replied Conroy. "It involves a lot of the villains and it goes to that area – it's that dark."
The confirmation of Talia al Ghul, who is Bruce Wayne's on-and-off lover and mother of Bruce's son Damien, according to GamingTarget was broken via Twitter posts by actress Stana Katic. The star of ABC's "Castle" revealed she would be voicing the role in a pair of posts that have since been deleted.
"Just recorded a character voice on the next Batman video game," read the first post. "Never did that before. Helpful hint: plenty of water and pineapple slices"
She then continued in the second post, ""For those who were asking: I'm voicing Talia al Ghul, the daughter of Ra('s) al Ghul."
It is also of note that the podcast featuring LaMarche's interview has since been removed as well with a "File Not Found" error in its place.