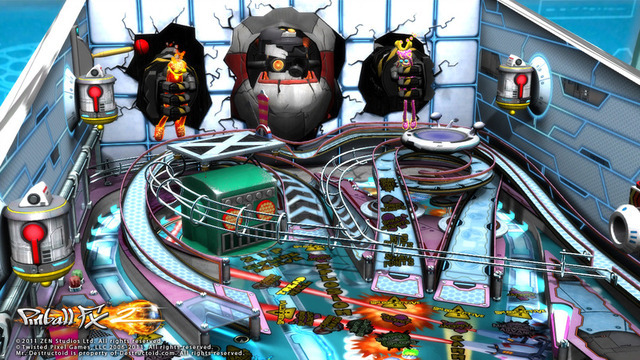 Any successful brand of entertainment worth its weight in quarters will have inspired a pinball machine theme somewhere along the way; The Simpsons, Star Wars, Kiss, etc. You can add Ms. Splosion Man to that list, now that ZEN Studios and Twisted Pixel have teamed up to bring us Ms. Splosion Man Pinball, an additional pinball table for Pinball FX2.
These days, few people spend their time in arcades (assuming one can even be found). It's been a while, but Sonic Spinball taught us the merits of virtual pinball. It exceeds the fun of an old school pinball machine without the need for an endless supply for quarters. Pinball FX2, the followup to Pinball FX on Xbox LIVE Arcade, is the best virtual pinball game out there. It maintains a legitimate pinball experience with the added benefit of some ridiculously creative pinball tables. What makes Ms. Splosion Man Pinball so great is that it's not just a random pinball table with Ms. Splosion Man stamped on it. The developers have done some real fan service, making sure every element of the table is a reference to the game that was its inspiration.
Ms. Splosion Man dances on the table (that sounds a lot more suggestive than it actually is), as characters from the game, like scientists and rollerbots, move about, interacting and interfering. But there's more to the game than just racking up points. The pinball table itself acts as a level, where you're tasked with freeing Splosion Man. At certain points, the game will go into a first person perspective, where the pinball loads into a canon and requires launching. The amount of depth in Ms. Splosion Man Pinball rockets beyond expectations, making it much more than a typical pinball game.
Even people who have never played Splosion Man or Ms. Splosion Man will want to drop the Microsoft points for this gem. There's really nothing to fault with this game. And one of the best aspects of Ms. Splosion Man Pinball is that is requires very little commitment. Though little time is required, much time will be spent. Now if you'll excuse me, I've got some pinball to play.