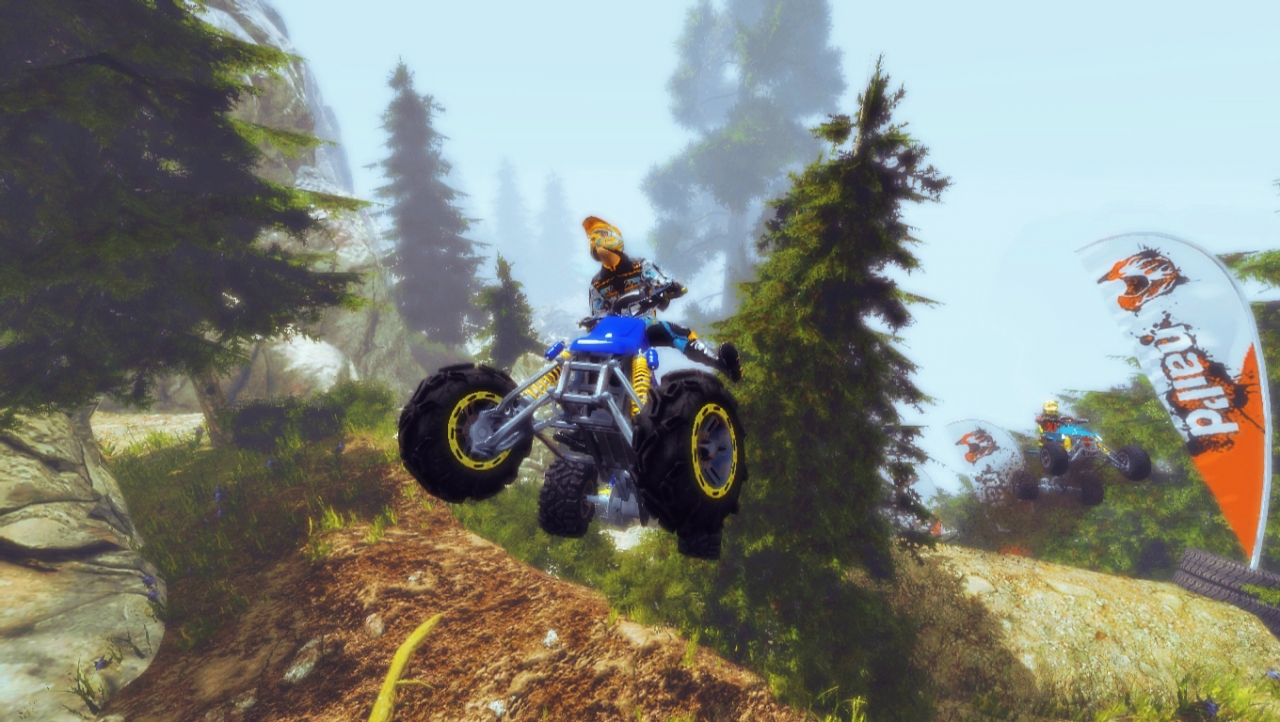 There is a new ATV/Motocross racing game on the way from developer Deep Silver Games that is looking very promising. Currently in its pre-alpha stages, nail'd is looking to be a solid racer that I was able to get an early first look at in an eyes-on demo last week.
The game does not yet incorporate music, but is planned to have a fully licensed soundtrack upon release. Deep Silver is also looking into the possibility of allowing players to create their own custom soundtracks and import them into the game.
When I was shown the demo level it was pointed out to me that the game will not have a radar or map for races. This became obvious as I saw that each course has multiple side-passages that weave and interlock with one another, minimizing the effectiveness of any potential map for delivering useful information regarding players' positions among the pack.
When one hits an object hard enough in nail'd, be that another racer, tree, rock, or out-of-zone cliff, the player's ATV will explode and the player will be reset back a short distance before they crashed. Careful players, however, will be able to nudge or ram other racers hard enough to cause them to explode but keep themselves intact. This seems like it will create some great competitive bumping and nudging when competing online or with friends.
Nail'd is being designed using Techland's Chrome 4 engine, the same engine that was used in Call of Juarez: Bound in Blood. Thanks to the engine, the game has some pretty good graphics even in its early stage of development.
The stage that was shown during my demo was a forested mountain area. There were plenty of trees to dodge, bridges and pipes to ride on or jump over, wind-generators in the middle of a massive jump, and more. At one point the Deep Silver representative playing the game had to dodge his way around massive saws as he drove through what seemed to be a logging station. It all combined into some pretty exciting environments and obstacles.
Players will be able to customize their ATVs/dirt bikes and racers with unlockables in both online and offline modes in nail'd. Players will be able to choose between male and female racers and can perform their customizations in the game's garage mode. Each ATV and bike in the game will have different stats with different advantages and disadvantages. Players will also be able to use both ATVs and Motocross bikes in the same races against one another.
Nail'd will have plenty of support for multiplayer as it will feature up to 12-player races for both online and local play. It will also have local leaderboards for online records; Deep Silver is currently working to see if they can make them as specifically localized as state-wide or even city/region-wide.
More information on nail'd will be coming when Deep Silver shows off a new environment and offers hands-on demos at E3. Despite being in its early stages, the bits of the game that were shown make nail'd look like a very promising racer that PS3, Xbox 360, and PC players should consider putting on their "games to look into" radar for Q4 of this year.