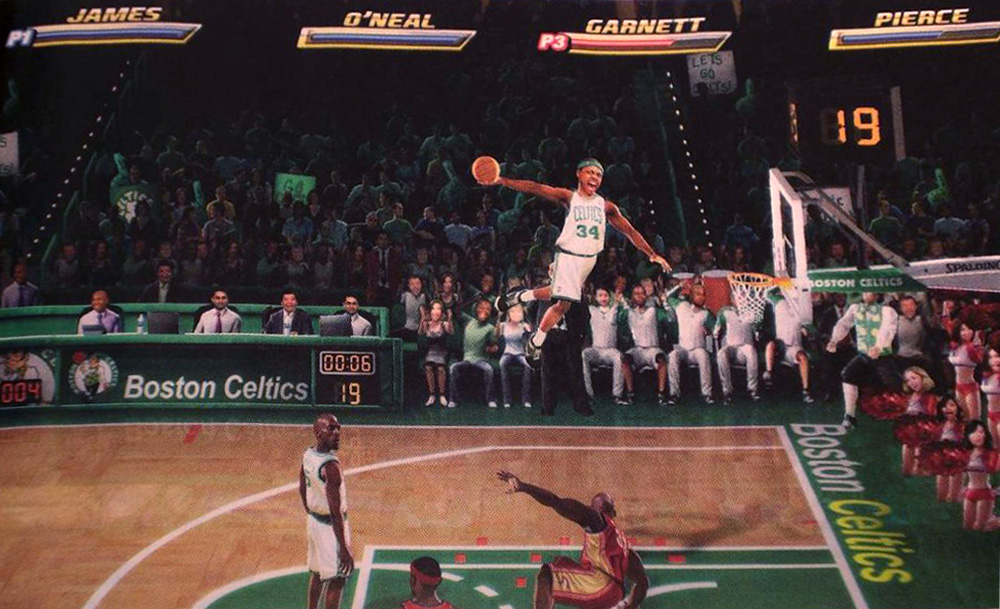 Sports games over the past decade have shied away from the over-the-top, arcade-style presentation that was present in the industry during the 1990s. Taking their place have been the more traditional sports franchises like Madden NFL, EA Sports' NHL, and NBA 2K. However, EA has gone and pulled out a gem of nostalgia for fans of these recently neglected games, as NBA JAM is getting itself a remake for the Nintendo Wii.
Anyone who remembers the original arcade game (later released on the Super Nintendo and Sega Genesis platforms) will know NBA JAM for the ridiculous dunks, complete lack of fouls, and one-of-a-kind play-by-play. All of this has returned in full to the 2010 edition for the Wii, as players will leap long distances over opponents to slam the rim, as well as shove players to their hearts' content and get their daily dose of the classic "Boomshakalaka!" from Tim Kitzrow.
The controls, at first, are a tad hard to grasp; jumping, blocking, and winning tip-offs are performed by flicking the Wiimote upwards. Shooting and dunking is performed by then flicking the Wiimote down. Aside from getting the motion control down, the rest is pretty easy to pick up. The Z button is for turbo running, A is to pass, and B will allow you to steal and push while pressing a direction on the D-pad at the same time. For those who want to be fancy, pressing Z and B at the same time will perform a crossover dribble in an attempt to get around opponents. Also, anyone who doesn't want to use the Wiimote will be happy to know that the Wii Classic Controller will be supported. (Editor's note: YESSS!!!!!)
For those who loved getting on a streak and taunting your opponents while on fire, the animations for heating up and the flaming fire-covered basketball will return. As do other classic animations like a flashing loose ball.
The game is a complete blast to play against other people. Talking trash to one another while performing sickening alley-oops really brings a level of fun to a genre that has seemed to be more recently focused on serious competition. The one noticeable downside (or maybe another upside?) was that the AI is incredibly good. They will shove, block, and dunk all over you if you're inexperienced. However, the AI opponent in the demo was Kobe Bryant, so it may be that Kobe is just that good in the game.
When it comes down to it, this remake has got the looks of a classic just like the original. It feels just as enjoyable and should not leave any nostalgic fan wanting. Be on the lookout for NBA JAM as it dunks its way into retail this fall.