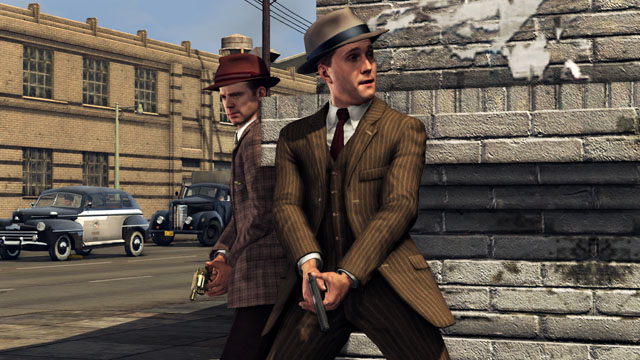 Yesterday the world got the final trailer before release for Rockstar Games and Team Bondi's L.A. Noire. Today, those anxiously awaiting the title have gotten a new gameplay video that shows there actually is a fair number of things to do when not investigating crime scenes and witnesses.
The side-quests video shows that there are approximately forty secondary street cases, all of which occur when players are out and about in 1940s Los Angeles. Players will receive calls on their car radio and can answer them by throwing on the siren and heading right to the scene.
These cases, unlike those in the main story, will have Detective Cole Phelps using his firearm often. Among the crimes you'll be stopping are robberies, car-jackings, and hostage situations.
But answering radio calls isn't the only thing you'll be able to do while roaming the streets. You can track down and collect special cars that will be at your disposal once obtained and grab newspapers that will trigger cutscenes revealing the backstories of certain characters.
L.A. Noire will be releasing next week on May 17 in North America and May 20 in Europe for both the Xbox 360 and PlayStation 3.
You can view the full trailer below, courtesy of IGN.
[flash width="540" height="337"]http:/www.youtube.com/v/jJG4D9m-SwQ?fs=1&hl=en_US[/flash]