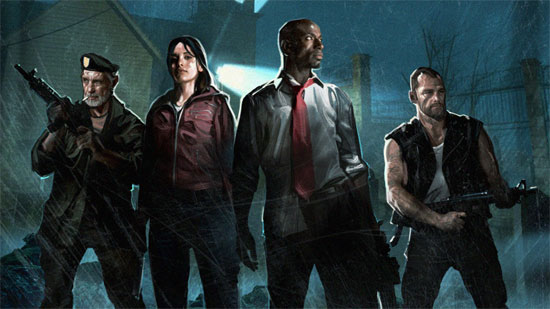 Containing both Survival maps and a Co-operative Campaign, the primary goal of "Crash Course" is to deliver a complete Versus mode experience in just 30 minutes, resulting in a streamlined version of the game's existing Versus campaigns.
It's targeted for release in September and bridges the gap between the end of the "No Mercy" campaign and the beginning of "Death Toll" in the original game, expanding the game universe with new locations, new dialogue from the original cast, and a frantic finale.
According to an article at Destructoid, whose author was the first person outside of Valve to play the DLC, the helicopter pilot who rescued the survivors on the roof of No Mercy hospital was infected. Apparently Bill, Louis, and Francis blame Zoey for the helicopter crashing because she shot the infected pilot. The article also hints at a couple of "surprises" for those who are "used to the way Left 4 Dead works."
Controversy has surrounded the L4D franchise since the announcement of the first sequel, complete with a boycott group and irate fans. One of the complaints from fans was the lack of promised DLC content for L4D, which appears to have been remedied with this new announcement. However, the controversy will most likely continue since this DLC will be free on PC but cost Xbox 360 users 560 points ($7), a shame since the first batch of DLC was free for both platforms. While it may seem easy to point a blaming finger toward Valve, remember that Microsoft, not Valve, controls the Xbox LIVE pricing.