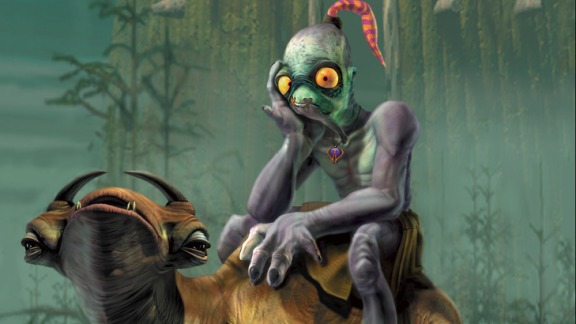 Developer Just Add Water, best known for the retro-throwback PSN title Gravity Crash, has announced a partnership with Oddworld Inhabitants to create the first game in the Oddworld series since 2005. Few details have emerged on the project, but according to Just Add Water's blog, initial planning for the game began in June 2009. JAW says to expect more information to surface in the coming weeks and months, and that they are currently developing multiple projects on several platforms.
JAW's Managing Director Stewart Gilray expressed his enthusiasm for the franchise, "To work with the team at Oddworld has been amazing; being able to tap the minds of Lorne Lanning, Sherry McKenna and others has been fantastic."
"It's almost symbiotic in that when something moves forward on any of the projects we just start chatting about new items, or what if we do this," he continued. "We're all extremely excited to breathe life into the Oddworld universe and indeed to let it breathe life into us."
For those eager to follow the next Oddworld's progress, check out Abe Mudokon's Twitter page.