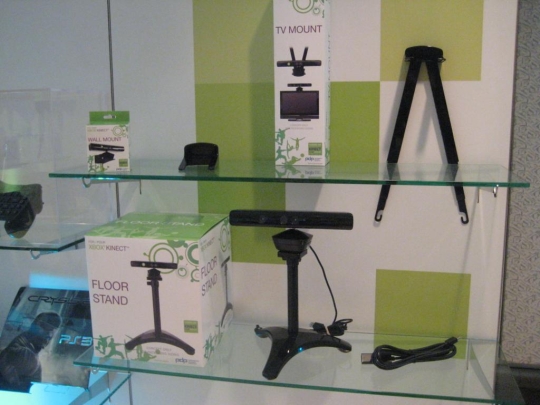 The fine folks at Performance Designed Products LLC (PDP) are making sure every Kinect user has a place to put the darned thing. Even if you've got nowhere to put Kinect atop your television, you'll at least have somewhere to put it.
"At PDP we are proud to offer the best quality peripherals and gaming accessories and we're excited to bring that same quality to Kinect for Xbox 360," said Tom Roberts, CTO and Executive SVP at the California-based gaming manufacturer. "We're working exclusively with Microsoft to bring consumers officially licensed stands and mounts to add to their controller-free entertainment experience."
All four of PDP's Kinect accessories have been approved by Microsoft and will be the only of their kind.
They are as follows:
* Wall Mount for Kinect, SRP: $14.99 – The Wall Mount provides a quick and easy solution for mounting your valuable Kinect for Xbox 360 to the wall.
* TV Mount for Kinect, SRP: $39.99 – The TV Mount uses the VESA spec standard as a one-and-all solution for mounting Kinect for Xbox 360 to any size TV (from 26" to 60").
* Cable Extension for Kinect, SRP: $49.99 – The Cable Extension for Kinect will allow you to extend your connection by over 9 feet, allowing you to place Kinect for Xbox 360 virtually anywhere in your living space.

* Floor Stand for Kinect, SRP: $29.99 – With a large tripod base and secure locking mechanism, the Floor Stand is designed to allow the Kinect Sensor to be elevated above the floor to help protect the Kinect for Xbox 360 from foot traffic and dirt.
All products will be available for purchase in November 2010, to simultaneously launch with Kinect